BABYMETAL & AVATAR @ ARAGON BALLROOM – CHICAGO, IL
By Joe Hendrickson on September 24, 2019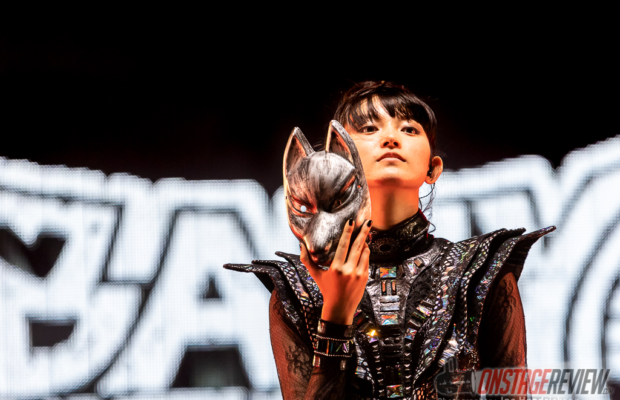 September 20, 2019
Japanese metal band, BABYMETAL, came through the Aragon Ballroom in Chicago on their 20 date US tour to support their upcoming album, Metal Galaxy, which will be released on October 11, 2019. Accompanying them on this tour is Swedish metal band, Avatar. Before attending the concert, I thought that this was somewhat of a strange lineup for a tour but it turns out that they're actually paired up pretty well together because they're very theatrical in their performances and appearance. When I came up to the Aragon, the line was down the block and wrapped around the side of the building.
Avatar is a band that I've been a fan of since I heard their Black Waltz album a few years ago but they've actually been around since 2001.. The band has a different and dynamic sound that no other band that I've heard has been able to replicate. If you haven't heard Avatar, you should give a few songs a try because they all have a different sound to them and it's hard to pinpoint a specific genre, other than metal. Leading up to the show, I've talked to a few people that have seen them previously and they told me that I wouldn't be disappointed and they weren't wrong.
The showmanship in this band is breathtaking from their face paint to their "freakshow" in "Avatar Country" stage presence to their name lit up in lights on the back of the stage. Singer, Johannes Eckerström, knows how to communicate and take control of the entire crowd with his eerie but very magnetic persona. Their sound was fantastic with being able to hear every instrument and vocals, with the solos perfectly echoing throughout the ballroom. Towards the end, they thanked the fans because Chicago was the first show that they played in the United States years ago and they'll keep coming back again and again and again. Looking through pictures can give a glimpse into what you can look to experience but actually being in the crowd will only truly show you what you've been missing. The only regret that I have is not seeing them sooner and seeing them as a headliner. Hopefully next time!
BABYMETAL opened the night with their name up on a screen at the back of the stage then the band starting to play with their evil, metal looking masks until the singers took the stage. What I was impressed with was how well the band had all of their songs choreographed, which is very uncommon for any metal band in the United States and possibly the world. Mixing the dancing with the high range vocals and powerhouse music will make them stand out for time to come. Their energetic, electrifying dancing left the fans cheering during every song and signing back to every word, especially considering that the music is a mix between Japanese and English.
Their most recent single, "Pa Pa Ya!!" features FHERO and they had him up on the screen behind them while they danced along with the music. One thing to mention throughout their performance is also how well that the masked musicians played. The sound was phenomenal and they did not miss a beat whatsoever and they could easily perform with some of the top metal bands in the industry. The lights were nice and bright with beams of light circling around the ballroom and crowd. The large screen in the background consistently either had a music video, logo, or a colorful background to make them look like silhouettes.
The venue was packed with fans of both bands and had lines wrapped around the lobby area with people waiting for merchandise. Before the show, I never realized just how many people to expect to be at this concert and wasn't sure if the Aragon would be the best size venue but I was wrong. Overall, the show sounded great and the theatrics of both bands were in point.
If you've missed this show but want to see them in another city, or want to buy their music, feel free to go to their websites above for their current list of tour dates and music available..
AVATAR
BABYMETAL
Features

Nicci Allen | February 26, 2020

LAMB OF GOD @ HOUSE OF VANS– Chicago, IL February 14th, 2020 Review: Dan Scheiman Photos: Nicci Allen What better way to celebrate Valentines Day, than an intimate winter...

Featured Photographer

Joe Hendrickson | February 18, 2020

Machine Head @ The Metro – Joliet, IL February 15, 2020 Review & Photos by Joe Hendrickson Machine Head made a stop at The Metro on their Burn My...
ABOUT ONSTAGE REVIEW

On Stage Review is a collaboration of passionate and enthusiastic music lovers coming together to give you an inside look into some of today's hottest and most intriguing artists.

We'll dive into their lives and careers on and off the stage and give you an up close perspective few get to see.

Facebook

ADMIN
Copyright © 2017 ONSTAGE REVIEW.com. Site by FM Imagery.