Bad Planning Release New EP "Barrington's Biggest Mistakes"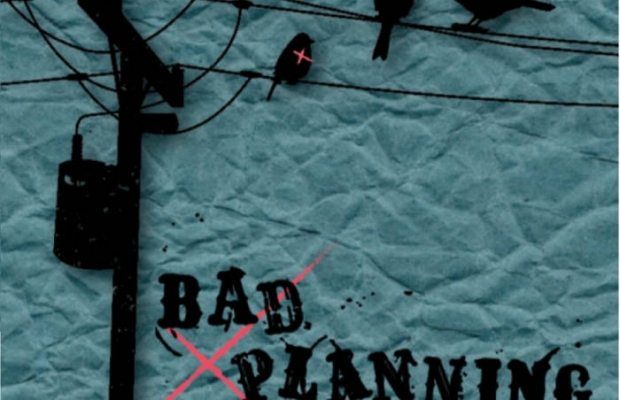 Barrington based pop punk band, Bad Planning, released their third EP titled Barrington's Biggest Makes earlier this month on May 5th. Compromised of Alex Crook (vocals, guitar), Aaron Hornback (bass), Brian Clancey (drums), and Dylan Fritz (guitar); the band combines influences from artists such as Alkaline Trio, Saves The Day, and The Story So Far to create an EP that captures the attention of listeners from the first note. Barrington's Biggest Makes is available on all major platforms; including Spotify, Apple Music, YouTube, Bandcamp, and more. Victoria and Alex Crook recently had a conversation about the band, the EP, and it's creation and influences, which you can read below.
V: Can you introduce yourself to our followers who may be unfamiliar with you and your music?
A: Hey guys! I'm Alex and i'm the singer and guitarist of Bad Planning! My best friends, Aaron (Bass) , Dylan (guitar) and Brian (drums) play in the band with me. I've been doing this since the winter of 2013 and have been having a blast ever since. I've released a lot of music with several different lineups throughout the course of Bad Planning's time but these songs along with this current lineup are definitely the strongest incarnation of the band.
V: How did you all meet, and what was your first impression of each other?
A: I met Aaron and Brian at Barrington High School, where we used to go to school. Aaron I met during sophomore year in our speech class. Bad Planning was a thing then but I never imagined he'd be a part of it. Moreover, he is one of my best friends. He was a goofy kid; super talkative with a funny nature. Him and I just kinda hit it off right away since we both loved the same music. I met Brian in my German class during senior year. We basically just bonded on both being from New Jersey and liking a lot of the same bands. We drove our German teacher nuts to say the least. And Dylan plays in another awesome band called Bad Jokes who Bad Planning had played with a few times. We were looking for a guitarist and he was down to fill in and ever since then we've been slowing conning him into joining our band (it's working)!
V: What originally inspired you to begin writing music?
A: For myself, it was bands like Green Day that made me wanna start playing music. Billie Joe had such a simple way of writing amazing songs with only a few chords. 10 year old me sorta knew that that was something I could do! That's how I got into punk rock in general. After that, I got super into what I consider my favorite bands now; bands like Alkaline Trio, Jawbreaker, The Descendents, The Smoking Popes and Lifetime. Those bands never cease to amaze me. As for lyrics, I find it's easiest to find inspiration from the hard things in life. I can say that there's been some things I've gone through which were very hard for me to deal with. As the band's lyricist, music seemed to be a healthy vessel to get my anxieties off my chest and to help me deal with what's hurting me.
V: Through your social media posts, music, and statements that you've made at shows, it's clear that you're very passionate about the local music scene. How has being a part of it impacted or influenced you?
A: Being a part of the local Chicago scene is amazing. It's an absolute blessing that I get to be involved with something so cool with so many people that I truly love. There's so many amazing bands. You can't go one weekend without there being at least one stacked local show to attend. It's weird for me because I started in this scene as a fan. I used to go see a lot of bands that we are now friends with and play shows with frequently. Those bands that I used to go see were kinda my heroes when I started Bad Planning. I was only 14 when I got into this local scene! Being able to hang out with them as friends and play shows with them now (four-ish years later)  is a very cool feeling.
V: Your last EP, Lifetime, was released in 2016. After listening to Barrington's Biggest Mistakes a few times, there's no denying that you've grown as musicians and songwriters. Has your approach to writing changed since then?
A: I love our EP, Lifetime, a lot. Not in a weird way, those songs just mean a lot to me and helped me get through some very hard times. That being said there's no denying that the songwriting on Barrington's Biggest Mistakes is much more developed and stronger. The approach I took to Barrington's Biggest Mistakes was just trying to write the best songs I could with my friends. I revised lyrical and musical ideas more times on this release than any other. My goal was to truly say what I wanted to say in the songs while producing the best songs we could write. In no way have we hit our peak but I'm very proud of these songs and what they mean.
V: This EP is quite diverse in it's array of songs; taking this into consideration, what other bands and artists influence your writing? Do you all listen to similar artists, or do your tastes differ?
A: Our tastes all differ, although we definitely all have plenty of common ground. Some of the biggest influences on this EP are Alkaline Trio, Crucial Dudes, Bayside, The Get up Kids, Lifetime and a bunch of others. Those are artists we all love. The diversity of songs just comes from us trying new things. There's songs that are just fun poppy, punk-rock songs such as"Lifer" and "Midwest Classic", but then there's something very midwest emo about the song "10:54", and a very hardcore take on our band with "My Civic Is Worth Less Than Brian's Drum Set". We had a lot of fun experimenting with new sounds and trying new things on the EP. Barrington's Biggest Mistakes is a great testament to us trying something new.
V: I can't help but notice how the opening line to "Lifer", the main single from Barrington's Biggest Mistakes, is "I said I loved you, you told me to go kill myself". It's harsh but it definitely grabs the listener's attention; can you elaborate more on why you chose to make that the single?
A: "Lifer" was a super tough one to write for me personally. It hashed up a lot of dark themes based on my own personal experiences as well as some other stuff. I'm an EMT as well so I've seen some pretty nasty stuff and that's definitely part of the song's meaning too. Everyone will have their own take on it, but that opening lyric is just my own special way of saying "I don't care if I'm not loved, I just want to love myself". The title "Lifer" was supposed to be the combining of the words "Life" and "Saver". The overall meaning of the song is just to honor and love yourself even in the darkest times. This is something I've struggled with frequently in the past. I hope that's what people take away from the song! It seems to be a lot of people's favorite song from this EP so far and I'm very grateful for everyone who cares enough to listen to it.
V: The closing track on Barrington's Biggest Mistakes, "My Civic Is Worth Less Than Brian's Drumset" is quite a departure from your normal sound; it sounds like it's more influenced by hardcore than pop punk/emo. How did this come to be?
A: We all love hardcore! It's such an amazing chapter of punk music. We just thought it would be fun to put a hardcore song on the EP because… why not?! We love playing it and have been getting a lot of amazing feedback on it so we're stoked to start introducing it to our live set.
V: Do you have any upcoming shows where fans can see you perform live?
A: WE JUST HAD AN ABSOLUTELY AMAZING EP RELEASE AT MY HOUSE THIS PAST SATURDAY, MAY 5TH WITH OUR VERY TALENTED AND AMAZING FRIENDS. Seriously, the turnout could not have been better. We had a driveway full of kids singing along to our songs, moshing, dancing and having a great time. Just another reason why we're so grateful for this music scene. However, we do have some awesome shows coming up! Our next one will be on June 2nd at Evolution Music Downers Grove with Talk To You Never, Eternal Boy, Paper Towels and Zombie Schoolboy. That'll be a lot of fun.
V: Is there anything else that you would like readers to know that I may have missed?
A: To the local Chicago scene community; you guys are the reason I do this. I listen to music for the same reasons you do; to feel better and make connections that matter. Huge thanks to everyone who has ever cared about our band and sang along. Bad Planning is only around because of y'all and the feeling we get from playing for you is unmatched by anything. Thank you all. SUPPORT LOCAL BANDS!
Barrington's Biggest Mistakes is available now! You can connect with Bad Planning by following them on Facebook, Instagram, and Bandcamp.