BARENAKED LADIES @ ASCEND AMPHITHEATER-NASHVILLE, TN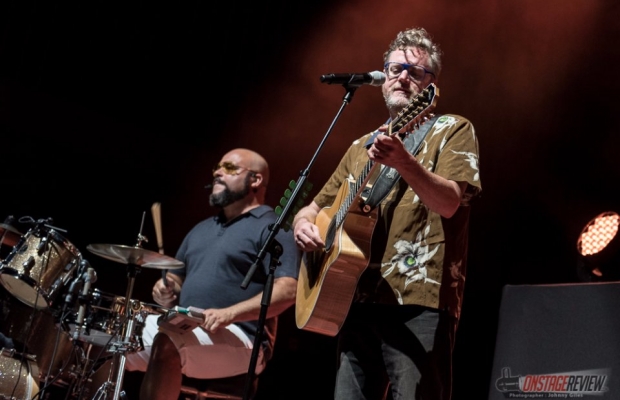 July 5, 2016
Nashvillians welcomed Barenaked Ladies with open arms … and who wouldn't? They put on one heck of a show with a great musical sound and lots of laughs.
This Canadian band took the stage at the Ascend Amphitheater in downtown Nashville as more of an Americana band than a rock band. Ed Robertson wielded an acoustic guitar, Kevin Hearn played a 12-string acoustic guitar, Jim Creeggan played upright bass, and Tyler Stewart used a drum kit that looked like it was made for a toddler. It was a very low-key opening with acoustic renditions of "Testing 123" and "Life in a Nutshell." The band was positioned in a row at the front of the stage giving the audience a great opportunity to bond with all the members.
As the show progressed, Kevin Hearn switched it up from guitar to accordion and even brought out a 6-string banjo for a tune. Jim Creegan took over the singing on "Peterborough And The Kawarthas," and Ed Robertson came back as lead singer on "I Can Sing." There was plenty of warm banter between songs. Ed joked about the empty seats in the audience, claiming that the seats were damaged due to a prior storm and that's why they were empty–clueing us in that BNL doesn't take themselves too seriously. Kevin sang lead on "Sound Of Your Voice" with gorgeous backing vocals from Ed and Jim. As soon as the song was over, stagehands rushed onto the stage and removed a little black curtain behind the band revealing the kind of stage where a band can make some serious noise.
Armed with electric guitar, electric bass, keyboard, and grown-up drum kit, BNL rocked out with the fan favorite "Brian Wilson." Anyone that thought the jokes were over for the night soon learned differently. The band began cutting up about Nashville's hot chicken and even hotter waitresses – which led to an impromptu rap they titled Hot Serving Staff.
After they served the audience their musical renditions of "Gonna Walk" and "Four Seconds," they called the legendary Howard Jones (who opened the night's show) back on stage. The audience showed him lots of love, and BNL backed him as he sang his classic "No One is to Blame." They followed that with "Duct Tape Heart," a song Ed claims to have written in Franklin, TN at the Frothy Monkey, and they went on to perform "It's All Been Done," "Pinch Me," "Watching the Northern Lights," and "Odds Are." There were definitely some busy stage hands running back and forth as the band changed instruments more times than Taylor Swift changes boyfriends.
Finally they played that song, that one … you know … what's the name of it again? Oh yeah, "Big Bang Theory," and the crowd made it clear that that was the song everyone had been waiting to hear. They continued strong with two mega hits, "One Week" and "If I Had a Million Dollars." The audience joined in on the singing of both, and it seemed that BNL was throwing a party. They finished up the show with a humorous medley that encompassed everything from rap to Star Wars. Ed did a little hip grinding in the middle, and Jim and Tyler ran to the front of the stage to be his back-up dancers. The audience begged for an encore, and the band came back, this time mixing up the parts of the players with Ed sitting in on drums while Tyler sang.
Overall it was a great night, and very unfortunate that some people had to miss it due to the Damaged Seat Theory (possibly the title of the next song they'll write?)