BARONESS AT THE RIVIERA THEATRE- CHICAGO, IL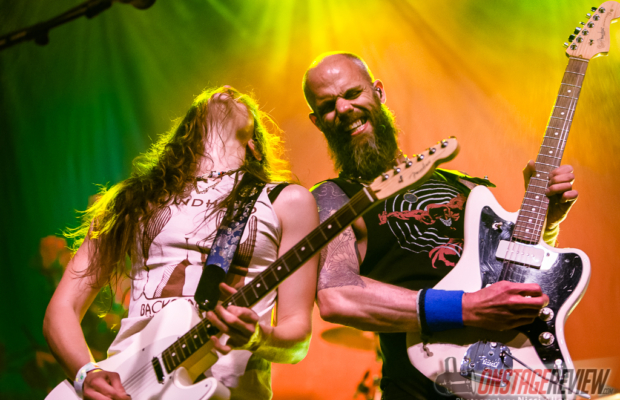 March 31st, 2019
Over the years, I have gone to nearly every concert for the headlining act, as most people do, but recently I have been making it a point to look into the opening acts ahead of time. In this particular case, at least 50% of why I absolutely had to go to this show was to finally see the most unholy and all mighty Zeal and Ardor. This spectacular band left a gaping wound on the metal community in 2016 when they introduced the album Devil is Fine. This band takes an approach to music unlike anything I have found before. The premise is a hypothetical scenario where instead of American slavery inspiring the soulful and hopeful spiritual music that it did, the oppression lead to a movement of what could be considered satanic spiritual music fueling itself with the infinite well of anger and aggression which that era created. Imagine old-timey blues and soul, then completely gut it of any peacefulness or love, and add the wicked and remorseless touch of black metal. If the concept isn't intriguing enough, it damn well should be.
Frontman Manuel Gagneux brings an amount of passion and sincerity to the stage that would be physically difficult to compete with for anyone. The message clearly fuels him, but the music is like an uncontrollable fire behind him. When he is not wiping tears from his eyes or sweat from his face, he is screaming at the top of his lungs or punching his guitar in rhythm with the rest of his band as they chant terrifying hymns about revenge and bloodlust. This band is not for everyone, but I would say everyone who is reading this should at least give it a listen. If you can't tell, I am obsessed. It's not every day that you find something truly unique in the music scene, especially something of this caliber and with such a profound message.
Deafheaven brought an entirely different experience to the audience, blending a plethora of genres into one. Their set started heavy as hell, then they gave the audience a bit of a breath of fresh air with some ambient and beautiful progressive interludes. The last few tracks stood out more than anything else throughout their set. It almost seemed as if the emotional state of the entire band grew stronger with each song. The swelling and build up alone was absolutely stunning. Reminiscent of some of my favorite live shows I've seen that incorporate the "wall of sound" effect, such as Agalloch, Sigur Ros, and Isis; Deafheaven brought on a gradual lifting sensation until ultimately, they dropped the climax on the crowd as if a dam finally burst open.
Finally, Baroness could be seen huddled together on the side of the stage just like you would see trainers and their prized fighters before the championship brawl. The energy and anticipation radiating from the fans was palpable. As the band walked out they raised their arms and the crowd erupted. The newest member of the Baroness family Gina Gleason, came directly to the edge of the stage next to founding member John Baizely, and they both greeted the venue with the most genuine of smiles. The backbone of the band, Sebastian Thompson and Nick Jost were laughing and goofing around in the background as they both held their beers up to cheers each other and the adoring fans. It his clear as day that this group of musicians are deeply happy with what they do for a living.
Baroness proceeded to joyfully and relentlessly assault us with some of the best riffage in the game. Beginning with "A Horse Called Golgotha" from the Blue Album, then on to "Morningstar" from Purple, and continuing to every other color on their palette of incredible albums. Much to my delight, I even got to hear my favorite track "Isak" off of the Red Album.
Each and every member of this band displayed their own chops in different ways, some would take the spotlight when others would back down, and each bandmate would give their all every time they were queued to sing, but the chemistry this group portrays live is a big part of what makes their shows and very likely their albums so damn incredible. There's a unique southern twang in their riffs that you could pick out on any given song, a balanced yet filthy guitar tone that is one of a kind, and a passion in the vocal work on every album that is unmatched, but when I saw Gina and John back to back leaning against each other, pouring sweat, and sharing the very same bliss the crowd was, I knew that this band is something special. Even with some revolving members and some changes in style here and there, Baroness proves to have a never-ending supply of fuel for their steamroller of sludgy psychedelic progressive metal. Thank you to all three of these bands for an unbelievable evening.