BETH HART @ PARK WEST – CHICAGO, IL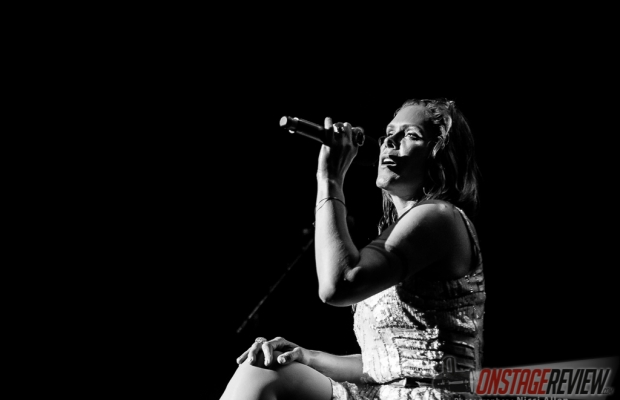 September 22, 2016

A quiet audience sat patiently awaiting the beautiful yet dangerous siren that is Beth Hart. The entire crowd was comfortably seated, being served drinks and smiling with both contentment and anticipation. Beth entered stage right with a similar but much more excited grin on her face. She was visibly emotional due to the sensational and very warm welcome the fans gave her. She stopped at the middle of the stage, put her hands together, and genuinely thanked everyone.
Starting out on a small elegantly decorated piano with candles on top and a brilliantly colorful backdrop, Beth seemed to be deep within her element with her fingers resting lovingly on the keys. Beth orchestrated her fellow musicians, but not in a way that a band conductor would; It was more like a painter would toss paint around at the peak of a flow state, or a dancer taking the lead would twirl their partner effortlessly and with utmost command. The musical connection and chemistry was clearly there but Beth was definitely deciding which way the current was flowing. Beth's trance that she goes into when digging deep during a performance is somewhere on a fine line between a child experiencing the euphoria of music for the first time and an old timey soul or jazz singer that is on the brink of emotional breakdown. It is truly a beautiful thing to see in person. The energy that bounced back and forth between band members was so intimate, it was intoxicating. As the blues continued to pour from the stage with the type of excellent production and sound that can only be found at Park West, Beth let loose and showed off her dance moves that were surprisingly not hindered in the least by her high heels or her high cut 70's style dress.

I want to openly make the statement that Beth has the most impressive voice in blues rock since Robert Plant from Led Zeppelin. If you are thinking in your head "this guy is out of his mind" go ahead and look up her live cover of "Whole Lotta Love" or the famous live video of "Am I the One" by this explosive human being. Her vocal gymnastics are uncanny, but the pure power, soul, truth, and sexuality that she lets rush out of her is a combination that I don't think any one can hold a flame to today. Her unbelievably strong pipes aren't the only thing that puts her in company with the greats throughout the years. Her razor sharp pitch, vocal precision, mic control, and dynamic range are just a few of the more technical attributes that show just how much of a professional this woman is. Its also worth mentioning that she has pretty solid skat skills as well.
The most incredible thing about this show, beyond Beth's voice and the mesmerizing talent-ridden band around her, was the obvious empathy that the fans exchanged with Beth throughout the show. Her connection with the crowd as she spoke between songs began to feel like that of best friends who hadn't spoken in a years. She openly discussed her past with everyone, including stories of love, drug use, traveling, and her family. I cant say I have seen anyone open themselves up like that in front of so many strangers, but honestly it seemed oddly natural for her to do so. She clearly had nothing to hide and the honesty and open discussion made the show just that much more intimate. Nearing the end she asked the crowd for a suggestion and someone right up front asked for "Leave the Light On." Upon hearing this request, Beth scooted around on her seat with childlike excitement and a huge smile on her face. She immediately agreed and expressed how happy she was to get to play this one for them. "You've got to live and enjoy what you do" were just a few of the simple words of wisdom shared with us on this night, but this was a woman speaking from experience. Her words as well as every lyric came from a very genuine and sincere part of her heart.
Not sure if she was just channeling her childhood idols throughout the night but I heard snippets of Whitney Houston and Janis Joplin in her voice as well as Elton John and Stevie Wonder in her electric piano performance. She mentioned in the show that she had been pouring her heart onto the piano since age 4, and it showed. I believe if more people knew the name Beth Hart she could easily be in the discussion for one of the best singers of our generation. Most importantly, you need to witness this woman live.