BLINK-182 @ IRVINE MEADOWS – Irvine, CA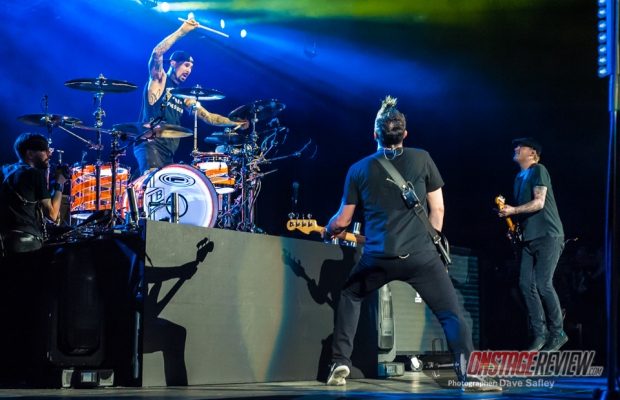 Date: September 29th, 2016
Blink-182, All Time Low, A Day to Remember and DJ Spider made a stop on their current tour on September, 29th, 2016 at the soon-to-be closed Irvine Meadows Amphitheater.
New member Matt Skiba whom replaced Tom Delonge in 2015, did a great job as the new kid in the lineup by just playing and not adding too much dialog, which was most likely a good thing, like a "just let the hardcore fans see what you can do" sort of thing.
Blink kicked off the set with their 2003 hit "Feeling This" along with a flaming sign spelling out the band's favorite word "FUCK" that appeared behind them.
All the members of the band were pumped and energetic, exuding a fair amount of stage presence keeping the crowd pumped with many of their hit songs such as "Reckless Abandon (a long time favorite track) and "Stay together For The Kids." Their encore track was "Happy Holidays You Bastard."
Starting the show was DJ Spider getting the crowd going as they slowly filtered into the outdoor arena from the festival style area where good eats and drinks were provided.
All Time Low then rocked their fans with a pop-punk sound which received much fanfare support . This Baltimore-based quartet was very energetic, keeping the crowd rocking to their most popular tracks.
The crowd was primed and ready for the next band – metalcore A Day to Remember played a load of their fan hits in their 11 song set – all in preparation for their album Bad Vibrations which was released September 2nd, 2016.
ADTR's very first song started out interestingly with a variety of beach balls launched towards the audience and bounced around throughout the 1st song. Being somewhat of more metal rock-style band, I thought this was interesting, and definitely entertaining dodging them while I was shooting in the pit.
The stage for ADTR was uniquely setup with old tape machines, which represents the band's new "digital sucks" recording philosophy. ADTR, a Florida based five piece band, rocked their fans with "Downfall" followed by "I'm Made of Wax Larry, What Are You Made Of? and "It's Complicated."
All Time Low
A Day to Remember
Blink-182