Buckcherry @ NAMM JAM – Anaheim, CA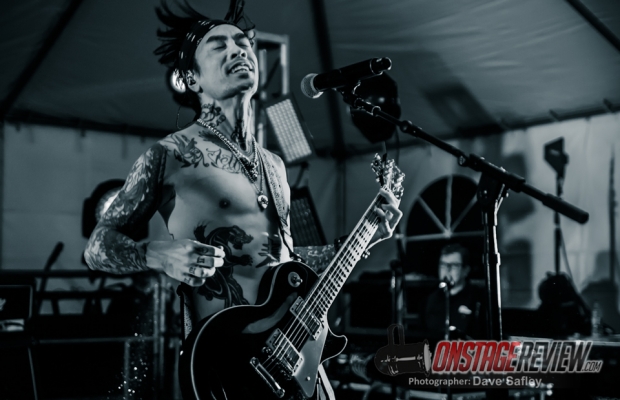 January 20th, 2017
Buckcherry, formed in 1995 from Anaheim CA, made an appearance at the annual National Association of Music Merchants (NAMM) for an exceptional performance at NAMM JAM. Taking place at the Anaheim Gardenwalk and produced by Delve Texas, NAMM JAM is a benefit event for the House of Blues Music Forward Foundation which helps youths succeed in music.
Supporting acts Like A Storm, Doll Skin, Hillbilly Herald, and Vital Noise, played to a mix of VIP and general admission attendance.
Buckcherry released two albums in 1999 and 2001 Buckcherry and Time Bomb, before dissolving in 2002. They then reformed in 2005. Fast forward to today, the band is currently made up of members Josh Todd- vocals, Keith Nelson- guitar, Steve D- guitar, Xavier Muriel- drums, and Kelly LeMieux- bass guitar
Buckcherry, busy in 2015 with local tours and again in 2016 with a UK Tour, celebrating the 10th Anniversary of their album 15, were still able to make a special appearance at NAMM JAM on January 20th, 2017.
Delivering a level ten energetic performance among all the members, the entire band put on a show as if they were playing to an arena of 10,000. Josh Todd made for a very entertaining front man as his stage presence spiced up the night with solid vocals, peppered with a bit of rock n' roll attitude. A blend of Iggy Pop and Mick Jagger seems to make up the DNA of Josh Todd.
Supporting acts were fantastic with Buckcherry closing out the show (which included a silent auction of guitars, an amazing airbrushed surfboard and more). The event was hosted by veteran rock DJ Jose Mangin, who did an amazing job. All of this was arranged for a wonderful charity! Fans were also treated to a after-hours party at the local night club, Fire and Ice, located directly next to the event. The party featured a night of rock DJ's closing out this amazing evening of music and making 2017 another successful year for NAMM JAM!
Set List:
"Slammin'"
"Say Fuck It"
"Too Drunk"
"These Things"
"Whiskey In The Morning"
"Lit-up"
"Tired of You"
"Out of Line"
"Gluttony"
"Sorry"
"Crazy Bitch"
Buckcherry