BUTCHER BABIES @ House of Blues – Chicago, IL
By Dan Scheiman on March 7, 2016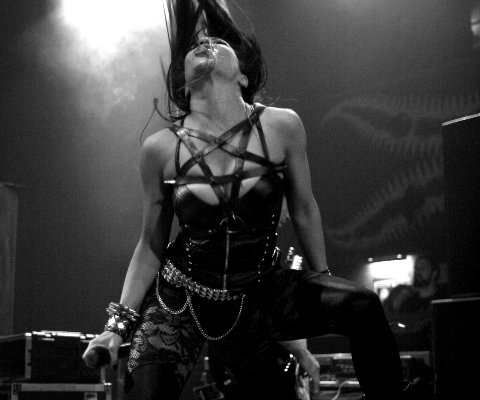 March 1, 2016
This was my first time seeing Butcher Babies. I was always told good things about their live performances in the past, but I still wasn't quite prepared for the intensity level that I was given. This is a band that force feeds their crowd with absolutely no remorse. As vocalists Heidi Shepherd and Carla Harvey entered the stage they carried with them a unique wave of energy I can say I'm not sure I've seen before. They brought a theatrical, almost circus like presence similar to that of Unexpect or Diablo Swing Orchestra, but with the aggression and raw power that would compete with just about any metal band that comes to mind.
The two vocalists, backed only by an excellent trio of musicians, managed to bring forth one hell of a punishing blow. The production itself was impressive enough, but when coupled with an overwhelming amount of distortion, rapid fire nonstop drumming, and two different singers seemingly harmonizing growls with one another, you end up with a wall of unrelenting and precisely organized noise. Every member of the band was right on point within a sea of chaos.
After every song there would be a brief moment of sanity, the crowd would take a breath, and then immediately get screamed at by one of the two lovely ladies on stage forcing the crowd to assault each other even more so than the previous song. Not sure if it was out of respect or fear, but the crowd began to obey their demands for more violence.
It wasn't just the crowd that gradually increased their level of hostility, but all of Butcher Babies as well. Near the end of the show Heidi spent an entire track in the mosh pit while still hitting every note and fighting her way through the crowd.
With the amount of thrashing, head banging, and running around the stage that was going on, I was impressed that none of the members injured anyone on stage or even bumped into one another. The stage performance and chemistry among band mates was a pretty cool spectacle to see. A shout out to both the ladies on the front of the stage for some of the most bad ass head banging I have ever seen, coupled with growls that would probably petrify a full grown Grizzly Bear to a mere whimper if they ever went toe to toe.
If you're looking for a high energy metal performance that will keep your eyes wide open and leave your ears ringing, look no further than Butcher Babies.
Dan Scheiman With an entirely open and unbiased obsession with music, Dan decided to take the opportunity given to him to share his thoughts for On Stage Review. Having been to hundreds of concerts of a variety of styles and genres over the years, he's no stranger to live music. He has been playing bass guitar for over twelve years now and has been dabbling in vocal work, drums, and piano for almost as long. Growing up listening to metal and industrial then transitioning into jazz and classical, and now having a particular love for funk or anything that grooves; his perspective comes from a well-rounded musical background and some amateur experience as a musician. He has too many favorite bands to list, but some of his favorite live experiences include: Sigur Ros, Porcupine Tree, Papadosio, Tool, The Ocean, Animals As Leaders, Lettuce, and of course, Victor Wooten.
Features

Dan Scheiman | August 5, 2018

MELVINS @ PARK WEST – CHICAGO, IL July 31, 2018 Review By Dan Scheiman Photos By Nicci Allen These legends have been on my concert bucket list for some...

Featured Photographer

Dan Scheiman | August 5, 2018

MELVINS @ PARK WEST – CHICAGO, IL July 31, 2018 Review By Dan Scheiman Photos By Nicci Allen These legends have been on my concert bucket list for some...
ABOUT ONSTAGE REVIEW

On Stage Review is a collaboration of passionate and enthusiastic music lovers coming together to give you an inside look into some of today's hottest and most intriguing artists.

We'll dive into their lives and careers on and off the stage and give you an up close perspective few get to see.

Facebook

ADMIN
Copyright © 2017 ONSTAGE REVIEW.com. Site by FM Imagery.