CARLY RAE JEPSEN Review @ City National Grove of Anaheim, CA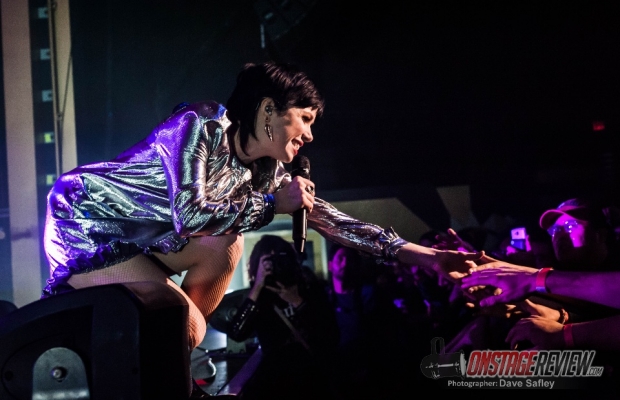 February 27, 2016
Carly Rae Jepsen is a Pop, Pop Rock / Electropop / Dance-Pop and Folk Singer – Songwriter out of Vancouver, British Columbia
On Friday night February, 27th 2016 it was a brisk 68 degrees in Anaheim CA at The National Grove Theater.
Excited fans awaited the doors opening with a line that reached the entire length of the building.
National Grove of Anaheim was the next stop for Carly Rae Jepsen's tour "Gimmie Love" which will continue tour dates all the way to the end of May 2016.
Playing to a near capacity crowd  filled with CRJ hardcore fans – with crowds cheering with passion and singing along to just about every song.
Carly's fan base is from the very young to old as well as families, with wholesome lyrics to power house pop songs receiving major radio play.
As you will see in our collection of photos, she is devoted as ever to her fan base, showing emotion to leaning over the barricade to shake hands with her die hard fans whom made it to the front row.
Backing her was some very talented touring musicians. Carly whom became well known for her song Call Me Maybe  went platinum in more than a dozen countries in 2012. Scooter Braun (whom also manages Justin Bieber) stated that she needs to top that track for her next record.
You may also know Carly from her role on the Live Television Special "Grease Live" as Frenchy.
The Gimmie Love Tour started in support of her current album "Emotion" which really shows her talent with multiple chart topping tracks that have received worldwide attention.
The crowd continued to show enthusiastic support for the entire 21 song set which included the following performances:
* Run Away With Me
* Making the Most of the Night
* Good Time
* E·MO·TION
* Warm Blood
* Boy Problems
* This Kiss
* Gimmie Love
* Tiny Little Bows
* I Didn't Just Come Here to Dance
* Tonight I'm Getting Over You
* Your Type
* When I Needed You
* Love Again
* LA Hallucinations
* Favourite Color
* All That
* Let's Get Lost
* Curiosity (Acoustic)
* Call Me Maybe
* I Really Like You
On Stage Review Photographer Dave Safley was able to capture the following moments during the show: