Doomed and Stoned Fest @ Reggies Rock Club – Chicago, IL
By Dan Scheiman on June 6, 2018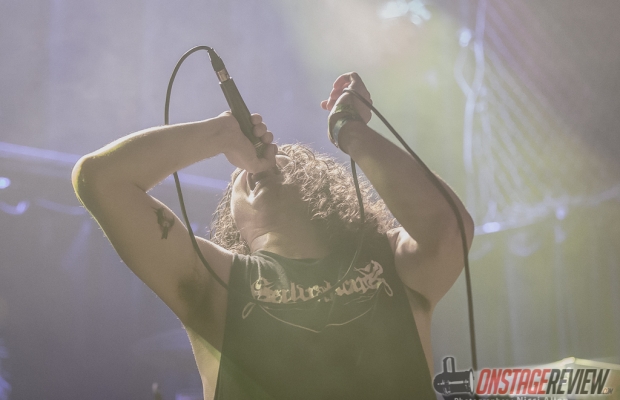 June 1st-3rd 2018
Day one of the very first Chicago Doomed and Stoned Festival was hosted by Reggies Rock Club, a venue that has been rattled for many years by some of the biggest names in metal. This festival was uniquely and specifically aimed towards lovers of doom and stoner metal.
For those who may be curious or are not aware what these genres consist of, these two art forms take what is commonly a complex and competitively speed based style of music, and turns it into a slow, grinding, painfully emotional, and often psychologically crushing rendition of metal.
"Doomed and stoned" is the name of a fest that most fest-goers would probably avoid like the plague, but the individuals who enjoy this type of music purposefully abuse their ears as well as their minds with some of the darkest and most psychedelic music on the market today. These genres distort space and time as they drag the listeners mental construct through the muck and mire of some of the most abrasive music you can find. That being said both genres still have a bond with both rock and blues, it just takes these ideas to the extreme.
With Indiana based Three Floyds Brewery on board as well as the metal influenced restaurant Kuma's Corner, and a fistful of brilliant local artists, there was much more than heavy music to discover at this Chicago fest. Around every turn there was a friendly face with some form of absolutely brutal and psychedelic artwork or merch to offer. The versatility bled throughout every aspect of the fest as well. While all the bands were extremely heavy, they each brought something unique to the table as well.
Unfortunately, we were only able to make day one of the three days of doomed and stoned glory. That being said, I honestly feel like I wouldn't have survived if I would have endured all three days. With bands like Inter Arma, The Skull, Scientist, Black Pyramid, Brain Tentacles, Black Road, and Whores on the list of many more, I wasn't entirely sure the venue would still be standing after 3 full days of euphoric sonic abuse.
Thank you Reggies for combining great beer, killer food, a collection of excessively talented artists, and some of the most brutal doom and stoner metal that could possibly be stuffed into one venue for a weekend. I am sure I am not alone when I say that would love to see this continue and grow as an annual Chicago fest.
Dan Scheiman With an entirely open and unbiased obsession with music, Dan decided to take the opportunity given to him to share his thoughts for On Stage Review. Having been to hundreds of concerts of a variety of styles and genres over the years, he's no stranger to live music. He has been playing bass guitar for over twelve years now and has been dabbling in vocal work, drums, and piano for almost as long. Growing up listening to metal and industrial then transitioning into jazz and classical, and now having a particular love for funk or anything that grooves; his perspective comes from a well-rounded musical background and some amateur experience as a musician. He has too many favorite bands to list, but some of his favorite live experiences include: Sigur Ros, Porcupine Tree, Papadosio, Tool, The Ocean, Animals As Leaders, Lettuce, and of course, Victor Wooten.
Features

Nicci Allen | February 26, 2020

LAMB OF GOD @ HOUSE OF VANS– Chicago, IL February 14th, 2020 Review: Dan Scheiman Photos: Nicci Allen What better way to celebrate Valentines Day, than an intimate winter...

Featured Photographer

Joe Hendrickson | February 18, 2020

Machine Head @ The Metro – Joliet, IL February 15, 2020 Review & Photos by Joe Hendrickson Machine Head made a stop at The Metro on their Burn My...
ABOUT ONSTAGE REVIEW

On Stage Review is a collaboration of passionate and enthusiastic music lovers coming together to give you an inside look into some of today's hottest and most intriguing artists.

We'll dive into their lives and careers on and off the stage and give you an up close perspective few get to see.

Facebook

ADMIN
Copyright © 2017 ONSTAGE REVIEW.com. Site by FM Imagery.