DOOMTREE @ SUBTERRANEAN- Chicago, IL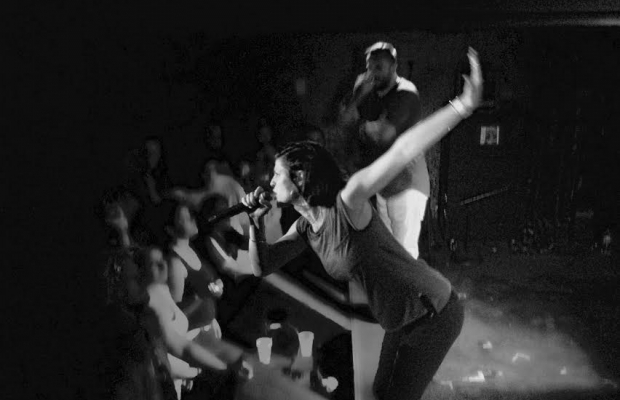 June 3, 2016
Review By Dan Scheiman
Showing up to a line around the block well after the doors had opened was a good sign to start the evening. There were friendly faces all the way down the line talking about how excited they were that the whole crew was showing up tonight in reference to not only all 5 MCs but both DJ/producers as well. The entire Doomtree family was in the house for this one.
Doomtree is comprised of an all-star cast in Cecil Otter, P.O.S, Mike Mictlan, Dessa, and Sims with Paper Tiger and Lazerbeak backing them up with excessively underrated beats and production. Not that anyone disregards Doomtree's production or talent behind the boards, but I sincerely think the skill level is on par with any of the greats in the hip hop community.
The crowd response early on was that of a group entirely made up of die hard fans. Doomtree is somewhat of a hip hop super-group and the fans who came out were fully aware of this fact. I was lucky enough to see them perform for their All Hands tour and I knew I couldn't miss them coming around again. While spitting some of the deepest and most real lyrics in the hip hop community today, Doomtree also manages to add a playful and humorous undertone to some tracks. Honestly this group does it all while making sure to make their message both poetic and viciously clear at the same time.
For one of their biggest hits, "Bolt Cutter", I saw something I hadn't seen since seeing Rage Against the Machine or maybe El-P live… A hip hop influenced mosh pit. Normally there's a lot of jumping, a bunch of hands in the air, and the occasional scuffle, but bands with this much anger and purpose behind their words and beats this hard to back them up inspire a bit more physicality from their fans. The mosh pit itself was not anger induced at all; every face that was in the mix was smiling and hugging one another with a very deep brotherhood type of connection.
Busting out a classic like "Bangarang" made the crowd go completely nuts. I was legitimately concerned that the floor might not be capable of holding us up much longer. One of the heaviest and most fun tracks this crew decided to pull out was "Get down" during their 3 song encore. I was so happy to watch this P.O.S. track set the crowd on fire as everyone in the venue spit every lyric.
See Doomtree is very well known for some controversial lyrics, anarchist ideals, and aggressive messages including one of my favorite tracks entitled "No Way" off the album No Kings. The intellect and logic that these MCs have amongst them is damn near too much to handle once you get them all in one group. Each of the artists holding mics has a message to be told and if you aren't ready to really reflect on your own decisions, your morals, and your ethical and political stances, then honestly you may not be prepared for what Doomtree has to offer but I strongly recommend you give it a try.
What these MCs spit is fire, and beyond the angry and abrasive words from time to time, this crew has a message that needs to be heard. Beyond the brilliance in writing, I sincerely feel like every single rapper in this group is underrated just on lyrical gymnastics alone. The thing that differentiates Doomtree from the rest is their sincere passion and how much they mean and enjoy what they do. These are true artists and they deserve all the respect they get and more. If they happen to be coming to your town, do yourself a favor and make it out to the show.