EVANESCENCE @ Orpheum Theatre – Madison, WI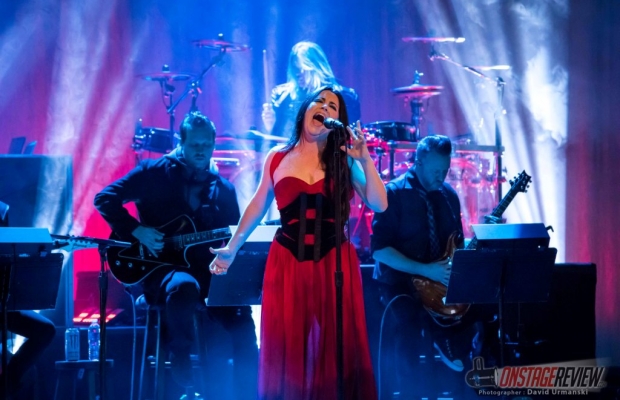 December 6, 2017
Founded in Little Rock, Arkansas in 1995 by singer and pianist, Amy Lee, Evanescence brought a unique and complex orchestral and electronica experience to Madison's Orptheum Theatre on Wednesday evening  in support of the band's fourth studio album Synthesis.   The instrumental ensemble, comprised of local natives, performing all of the various instrument families including bowed string instruments such as violin, viola, cello and double bass, as well as brass, woodwinds and percussion instruments typically devoted to the classical repertoire.
Coming together for a precision musical extravaganza in support of the rock band's 2017 North American tour, the addition of the orchestra brought to life all of the fan favorites including recently released single Inperfection which speaks to the flaws people carry through life and how an unforgiving world views people unfairly.   Despite the emboldened and inspiring lyrics, no flaws were revealed during this performance as adoring fans cheered "We love you Amy" following nearly every song on the set list.  To the contrary, the band and accompanying Madison musicians performed to perfection to an all-attentive crowd who hung on Amy's every word.
Evanescence continues to be a musical force to be reckoned with and worthy of significant praise.  Unlike most rock concerts which require a certain level of physical energy extended by attending concert-goers to help create an atmosphere of artistic enthusiasm, this seated show exuded passion and pleasure in every fan's face rarely witnessed by this concert commentator in comparable settings.   With limited shows remaining on the band's North American tour before they head to Australia in February and Eastern Europe in March, it is definitely worth while to experience this show by the close of 2017 in a town near you.  That is, if you can still get tickets.