FIRST ANNUAL WONDERBUS ARTS & MUSIC FESTIVAL @ THE LAWN- COLUMBUS, OHIO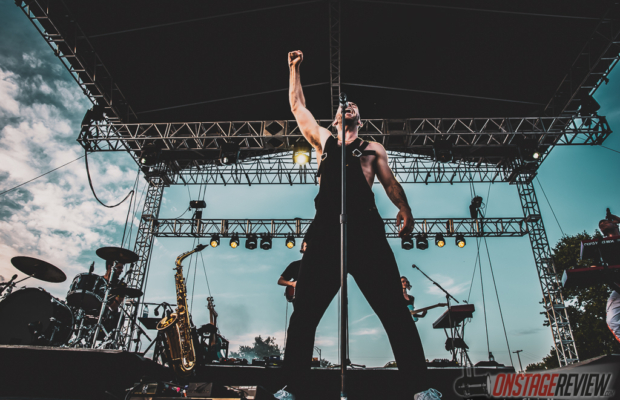 August 17 & 18, 2019
Review and Photos by Chris Moran
First Annual Wonderbus Arts & Music Festival a Hit!
Earlier this year I spied a new music festival that immediately caught my eye: The Wonderbus Arts & Music Festival. Some of my favorite musical acts were scheduled to appear, and the introductory price for the festival was practically a steal. So I was even more excited when On Stage Review was approved to cover the festival!
Wonderbus is a new festival created by the same team that created the successful LaureLive festival.
The festival was on The Lawn at CAS in Columbus OH. It was a fairly small and compactly set up event which was great. There were 3 stages set up. 2 Main Stages on the main lawn area (They would set up one act on one stage while another act played the one right next to it. This worked out great) and one smaller side stage which featured many up and coming acts, both local to Columbus and touring acts.
Scattered around the festival grounds were some fun things for people do and ways to relax such as life size Beer Pong (played with trash cans and a volleyball), a graffiti wall for people to express themselves on, various swings hanging from trees to swing on, a modest sized merchandise and vendor area, multiple drink tents and local food vendors and food trucks. The festival also supplied free water stations to keep festival goers hydrated. Another great selling point was how environmentally friendly the event was. There were various places to dispose of waste and recyclables and a great team of people that worked night and day to leave as small of a footprint and as little waste behind as possible.
The headline acts included Walk the Moon and The Revivalists on Day 1, and Ben Harper and The Innocent Criminals and X-Ambassadors on Day 2. All of these acts brought their A Games to Columbus. Other acts to grace the stages included personal favorites of mine Magic Giant, Red Wanting Blue, and Andrew McMahon in The Wilderness. I also discovered some great new music at the fest that I hadn't had the pleasure of hearing such as Bishop Briggs, Jenny Lewis, Ripe, and Trombone Shorty. These are 4 acts with varying styles that all caught my attention. I can't wait to see some of these acts on tour!
The festival goers were all in great moods all weekend and had great local food and drink to choose from as well as a great selection of local artists and vendors to keep guests engaged when they weren't glued to the stage.
Proceeds from the event benefitted OSU's Wexner Medical Center's Department of Psychiatry & Behavioral Health, which funds research on mental health issues with a focus on depression and suicide among teenagers.
I'm excited to see where this festival goes next year. It was a great start to what will hopefully be a long running event.
FULL LINEUP:
DAY 1:
Walk The Moon
The Revivalists
Bishop Briggs
Andrew McMahon in The Wilderness
Chelsea Cutler
Parachute
Future Generations
Morgxn
Clubhouse
Magic Giant
The Floorwalkers
Effe
Voila
DAY 2:
Ben Harper & The Innocent Criminals
X Ambassadors
Castlecomer
Trombone Shorty
Jenny Lewis
Ashe
Mt. Joy
Red Wanting Blue
Weathers
Flora Cash
Rebounder
Ripe
MNQN
Photos from both days are linked below:
DAY 1
DAY 2
Visit www.wonderbusfest.com for more information on this festival.