GOV'T MULE @ HOLLYWOOD CASINO AMPHITHEATRE – TINLEY PARK, IL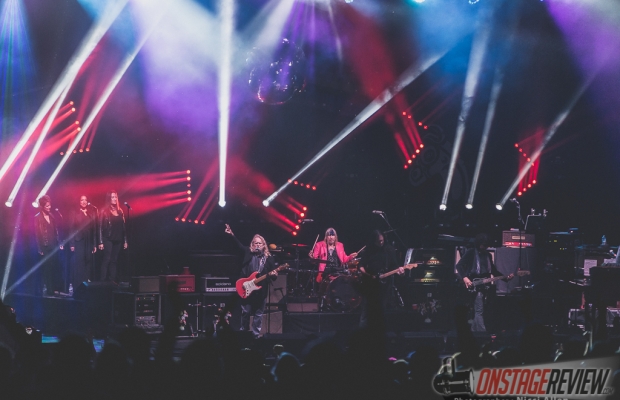 August 24th, 2018
Gov't Mule kicked things off with a few tracks of their own. Former member of The Allman Brothers Warren Haynes greeted the crowd with a big smile and a 12 string in hand. "Railroad boy" and "Rocking horse" gave the crowd a taste of original Mule before the Pink Floyd transformation began. This entire performance was based off of a tribute to the great Pink Floyd's The Dark Side of the Moon.
The talented Jorgen Carlsson begins by pulling out a fantastic bass solo that seamlessly transitioned into the intro of "One of These days" and the response from the fans was electric. Members of The Avett Brothers joined on stage for classics like "Time" and "Breathe" as well.
Some of the musicians that I unfortunately couldn't find any more information on were some guitarists, backup singers, and a saxophonist that assisted on a few tracks, but I cannot even begin to express how impressive these additional musicians performances were. The saxophonist's playing reminded of the great Kamasi Washington. I was actually on my way to the bathroom when the female vocal soloist for "The Great Gig in the Sky" began ripping into her showcase. If you're a Floyd fan you know the one I am speaking of. Needless to say I stopped right in my tracks and turned around with my jaw dropped. This woman portrayed more vocal control and power than I could even believe. I am just going to throw out there that if this woman is not the lead singer for a band of her own very soon she is doing the world a disservice.
The light show they had accompanying them, along with the absolutely wonderful sound production was better than most shows I have seen at Hollywood Casino Amphitheatre. I actually don't believe I have seen a light show of this caliber since the Laser Floyd show I saw many years ago. It was spectacular but in no way did it take away from the spotlight on the musicians themselves.
The choir that stood behind these wonderful musicians added a much-needed depth and emotional construct to what was already a continuous heartfelt rendition of so many incredible Pink Floyd tracks. The entire performance was well orchestrated and produced by artists who I would, without a doubt, put on the same if not a similar pedestal as so many of the greats from Pink Floyd. The best part about this rendition was not the ability for the band to mirror the tracks perfectly, but the amount of heart, soul, and respect that went into every note of every track. This group clearly has a message of their own, but their showcasing of this album along with a handful of other tracks showed a profound admiration for Pink Floyd and everything they did throughout their career.
Although I was not lucky enough to be a part of the generation that got to experience Pink Floyd live in concert, I do get to say that I was able to experience The Dark Side of the Mule in person, and I will gladly add that to my checklist of once in a life time performances. This way I can say that I have gotten a snapshot of what Pink Floyd's live music would have been like, but with the wicked and unrelenting powerhouse that is Gov't Mule guiding my trip. Thank you Gov't Mule for showing me a very unique perspective of what is clearly the more interesting side of the moon.