HEART @ GENESEE THEATRE – Waukegan, IL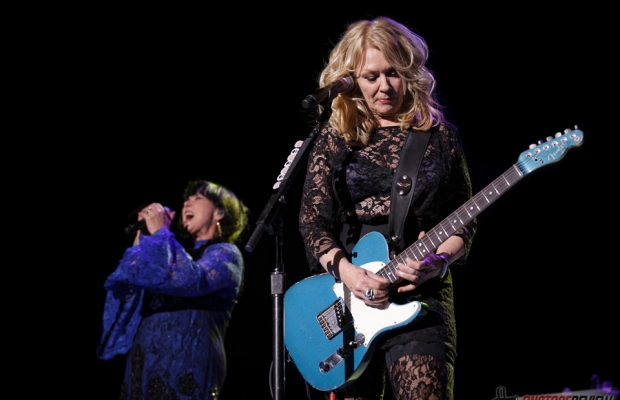 May 20, 2016
For a band that's been rocking and working hard day and night since the 70's, it was beyond impressive to see how much energy they still bring to the stage. With the dynamic sibling duo of Ann and Nancy Wilson coming out with a righteous fire to share with the fans, the entire venue seemed to add their own energy like tossing kindling into the flames. The radiant good vibes that filled the entire place was really something you have to feel to believe. 
Easing the fans into the show as best they could, they opened with "Magic Man." Laying down a solid groove inside the pocket and allowing the guitar and vocal magic to be brought into the light for everyone's eager ears. As the build up continued a bit more, Heart pulled out a classic in "Kick It Out" which the diehard fans were more than happy to dance and sing to. This band has always been known for being able to mix together a solid dancing groove with heartfelt vocals and a rocking pulse all in one jam. 
Dedicating "Sand" to some of the recent fallen artists such as David Bowie and Prince, the emotional context of the show began to swell quickly as the fans sang along wholeheartedly. Using acoustic guitars for a good amount of the tracks, Ann and Nancy continued to build momentum throughout the night. 
As the show started to pick up steam, "Straight On" came in with a thumping kick drum and an eruption of screams to follow simply because these faithful fans knew what was coming from the very first beat. With a song that truly captures the distinct Heart sound, it was incredible to see that the band seemed legitimately just as excited as those spectating. With shredding guitar solo interludes and the drums just hammering away throughout the whole track, this was quite the showcase. 
Obviously ending on their two most popular and heaviest jams, "Crazy On You" and "Barracuda," the venue was in a chaotic state of roaring applause and screaming all the way throughout both tracks. Both Ann and Nancy were showing off their abilities to harmonize vocally while absolutely wailing in between. These girls both still got what it takes, I'll tell you that. The band started to let loose for the last two tracks and really show off the chops and skills they each posses. It's always amazing to see veterans of their craft work their magic. Ending on a killer guitar battle, Nancy and lead guitarist Craig Bartock smiled and threw their picks at each other and walked off stage as the crowd lost their minds. 
We got a special treat for the encore. If there's one band that the ladies and gentlemen in Heart have been able to mimic pretty damn well over the years, it's the legendary Led Zeppelin. With stunning display of talent and execution, this group pulled off "Immigrant Song," "No Quarter," and "Misty Mountain Hop," which each sounded very authentic and true to the originals. These renditions were all absolutely excellent, but the fans response was something special. To say that Heart has a good amount of super fans would be a serious understatement. This performance was a spectacle to be seen for sure.