KASKADE presents SUNSOAKED MIAMI @ 1 HOTEL SOUTH BEACH-Miami, FL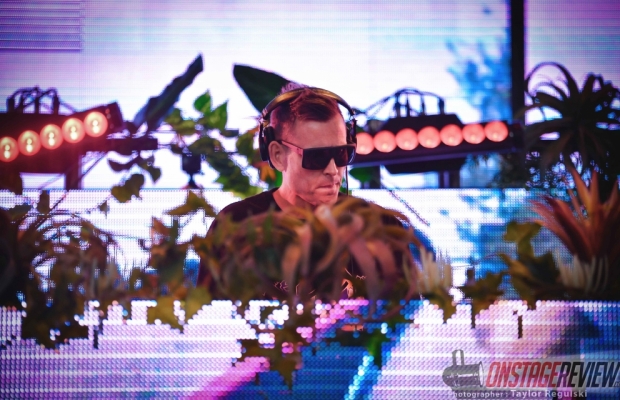 March 22, 2018
Ultra Music Festival (Miami) celebrated its 20th anniversary this year. Along with the festival, the city celebrated Miami Music Week. During the week leading up to Ultra Miami, everything becomes one major spring break party. Electronic Dance Music (EDM) enthusiasts travel from all around the world to see the best of the best come put on unforgettable performances.
Kaskade is a veteran when it comes to surprise and unforgettable performances. Merely a month before his Sunday performance at Ultra, the Chicago native House DJ announced he would be bringing Sunsoaked to Miami. The event has only had one previous stop in Long Beach, CA which sold out. Following suit, Miami sold out to 13,000 people for a chance to share in a private beach performance by Kaskade and special guests.
I have followed Kaskade to various states across the country to see him perform.  I will always be partial to seeing Kaskade perform in our hometown (Chicago) but, every time he seems to out do himself. Sunsoaked Miami was no exception. 1 Hotel South Beach sits along the Atlantic Ocean coastline. The hotel has a private beach providing a secluded and homey feel. Kaskade allowed fans to experience an intimate performance with Florida sands like they never have before.
The venue was a perfect choice that allowed attendees to experience sunshine, sand, drinks, and lounging areas while listening to some of their favorite artists. Kaskade brought along a variety of talented DJs. The supporting artists included: Oliver Heldens, CID, Jonas Blue, Hook n' Sling, and Brohug (all pictured). Other supporting acts included Loud Luxury, Lokii, Mr. Tape, Ravell, and Frankie Shakes (not pictured).
The atmosphere is exactly what everyone on vacation in Miami expects. From the laid back music to the tropical drinks, it was summer in full force. Hook 'n Sling and Jonas Blue had the crowd jumping on their feet with their energetic and breezy sounds. The fun and dancing didn't stop. Surprise guest, Oliver Heldens had everyone shuffling, or at least attempting to with future house beats. All three acts did not let Kaskade down with their upbeat performances and beach vibes.
Just as the sun was setting, the host took the stage. The crowd was thick and phones were out, prepared to capture the opening moment of Kaskade's inaugural Sunsoaked Miami set. He performed songs for every type of Kaskade fans and even spun B2B with some special guests. Brohug was introduced and played their remix of Love Song with Kaskade and CID joined Kaskade on stage later in the evening to perform their hit song Us and a few others.
Kaskade played for a total of 2 hours and did not disappoint with his intimate beach performance. Sunsoaked Miami will be an event that fans and the music community will remember. I still am singing his closing song Cold as Stone in my head.
If you've never attended a Kaskade show, I highly recommend it so you can experience the magic of his music for yourself. He has already announced another Sunsoaked event in SoCal. Rumor has it he may be hosting a Sunsoaked event in Chicago as well. Stay tuned!