LADY ANTEBELLUM @ RAVINIA FESTIVAL – HIGHLAND PARK, IL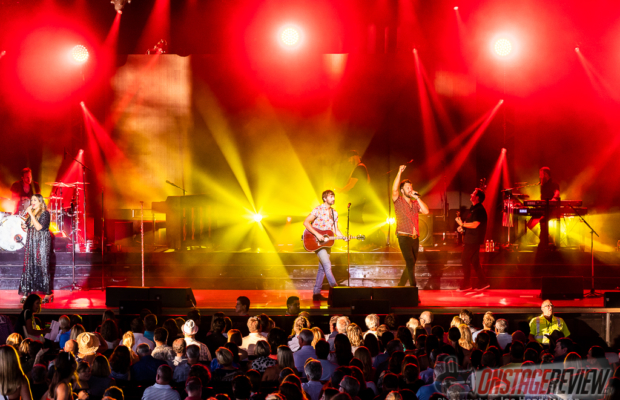 July 10, 2019
Multi-platinum and country superstars, Lady Antebellum, came through Ravinia Festival with their beautiful harmonies, great musicianship and crowd pleasing stage presence on July 10, 2019. This was my first time seeing Lady A and also being at Ravinia, which turned out to be a great time!
Ravinia is located in Highland Park, IL tucked back in a residential neighborhood. Ravinia is a large outdoor venue that has covered stadium seating, as well as an area for lawn seating. What's really nice about the venue is that you can bring in your outside food and drink, unlike most venues. There is limited onsite paid parking onsite so they offer a Park and Ride service away from the venue and get shuttled in for free.
Lady Antebellum was the only artist playing for the evening and they put on an amazing show! The sound was about the best that I've ever heard and you could hear every instrument and singer involved. Behind the band were three screens that had family videos  and photos playing during the performances.
What I really appreciated with the band is that they seem very down-to-earth and humble with talking to the audience about some of their songs meanings and how they got started.  They explained that the band started 13 years ago in Nashville when Charles Kelley and Dave Haywood saw Hillary Scott performing as songwriters. They started working together writing songs and the trio has been together ever since. As songwriters, they wanted to play some songs the way they were written so they gave an intimate acoustic performance. Songs included were "Dancing Away With My Heart," "Wanted You More," and "Heart Break." Scattered throughout their set, they also covered some songs by Tom Petty, The Eagles and others.
Fans will be happy to hear that they are almost finished with their new album! They performed a new song for the crowd and it sounded great. They joked that if the lyrics were off, no one in the crowd would notice. I would expect that the song will likely end up on the radio within the next few months or so for its debut or maybe they'll pick another.
In concerts, I appreciate when artists do something different than the standard performance to make things more memorable. During "Looking for a Good Time," Charles ran out into the lawn area to see all of the people out there. He sang out there for the second half of the song and I'm sure it's something that the people out there really appreciated. Also, although they're a trio, they went around and introduced each band member that was performing with them and some of them had a little solo time with their instrument during the song "Long Time Gone" by Dixie Chicks.
To cap off the night with their encore, they finished up with an acoustic performance of "Landslide" by Fleetwood Mac, written by Stevie Nicks. The crowd sung back and with them and it was a beautiful moment to hear how this band is in sync with each other. I couldn't find a single fault with the band and would absolutely see them again. Lady Antebellum is successful because of the hard work that they put in, their special talent, and their constant hits!