LORDS OF ACID @ BOTTOM LOUNGE – Chicago, IL
By Dan Scheiman on November 10, 2017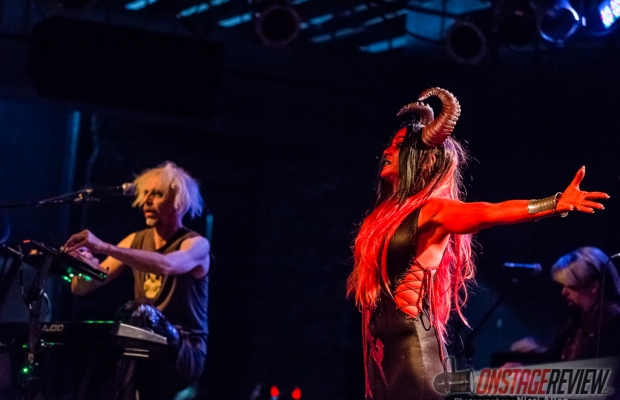 October 31, 2017
It was Halloween night and I walked into Bottom Lounge just as Combichrist was making their entrance from backstage. While I sifted through the costume-ridden crowd of a sold out venue to get a better view, I noticed that many of those who weren't in costume were wearing something to go along with the bondage theme that was advertised for the show. That crowd could not have been more prepared for the industrial Halloween madhouse that Bottom Lounge became that night.
Although their time slot would say they opened for Lords of Acid, Combichrist's performance made it feel like it was a dual headliner. The energy and aggression that this group came out with was nothing less than stunning. This group held the fans in the palm of their hand and relentlessly drove industrial metal down their throats allowing hardly any time to breathe in between each song. While they are clearly different genres of music, Combichrist somehow stirred up flashbacks of the last time I saw Dillinger Escape Plan. That being said I also noticed some distinct similarities to the Rammstein concert I attended not long ago. The dominance and musical prowess this band displayed was that of a some of the greats. Despite the superb attempt to pummel the audience into submission by Combichrist, they were still hungry for more and awaiting the legendary Lords of Acid.
Lords of Acid vocalist DJ Mea came directly from the gates of Hell to center stage of Bottom Lounge. Her devilish horns and red skin were either the best costume in the whole venue or she was actually a seductive demon looking for nothing more than sex and industrial metal. Regardless of her potentially sinful intentions, the crowd erupted upon her entrance.
This entire show was dedicated to the ever popular album "Voodoo – U" from 1994. The fans knew every single word as they chanted along with each and every song like the devil's minions themselves. What a perfect album to dedicate a Halloween show to. There is something specific about industrial music that seems to get people moving more than any other genre. The crossover between dance music and metal appears to be the perfect hybrid to get bodies moving. This concert was no exception. Lords of Acid's live performance was unlike anything else I have seen before. They managed to get heavy enough to remind me of Nine inch Nails, but still had enough fun to make me reminisce about seeing Caravan Palace.
Beyond the flawless sound production and merciless percussive assault this band put together, their connection with the audience was something that drew my attention immediately. Each and every member would wave the fans on looking for more movement and more energy from them, only to feed back more of the same in return. The drummer would pour water all over himself and carelessly launch his drums and sticks all over the stage as he smashed the hell out of his kit. This entire band gave their spectators every ounce of sweat and blood they had in them. Nearing the end of the evening members from the other bands as well as randoms from the crowd filled the entire stage. The last handful of tracks were an unbelievable display of organized chaos. The dance party that ensued this evening was one of the most fun I have ever been a part of, thanks to Lords of Acid and this unforgettable Halloween party.
COMBICHRIST
LORDS OF ACID
Dan Scheiman With an entirely open and unbiased obsession with music, Dan decided to take the opportunity given to him to share his thoughts for On Stage Review. Having been to hundreds of concerts of a variety of styles and genres over the years, he's no stranger to live music. He has been playing bass guitar for over twelve years now and has been dabbling in vocal work, drums, and piano for almost as long. Growing up listening to metal and industrial then transitioning into jazz and classical, and now having a particular love for funk or anything that grooves; his perspective comes from a well-rounded musical background and some amateur experience as a musician. He has too many favorite bands to list, but some of his favorite live experiences include: Sigur Ros, Porcupine Tree, Papadosio, Tool, The Ocean, Animals As Leaders, Lettuce, and of course, Victor Wooten.
Features

Nicci Allen | February 26, 2020

LAMB OF GOD @ HOUSE OF VANS– Chicago, IL February 14th, 2020 Review: Dan Scheiman Photos: Nicci Allen What better way to celebrate Valentines Day, than an intimate winter...

Featured Photographer

Joe Hendrickson | February 18, 2020

Machine Head @ The Metro – Joliet, IL February 15, 2020 Review & Photos by Joe Hendrickson Machine Head made a stop at The Metro on their Burn My...
ABOUT ONSTAGE REVIEW

On Stage Review is a collaboration of passionate and enthusiastic music lovers coming together to give you an inside look into some of today's hottest and most intriguing artists.

We'll dive into their lives and careers on and off the stage and give you an up close perspective few get to see.

Facebook

ADMIN
Copyright © 2017 ONSTAGE REVIEW.com. Site by FM Imagery.