MINISTRY @ HOUSE OF BLUES, Anaheim, CA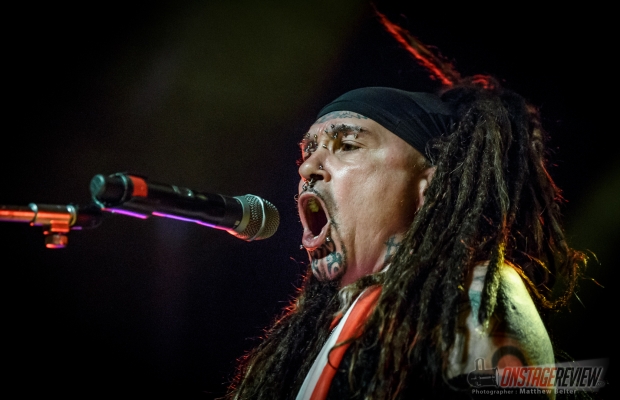 March 22nd, 2018
"Top to bottom, MINISTRY put on a spectacular show that highlighted (with an exclamation point) why this band has withstood the test of time and still sits atop the throne of all-things metal. Al "Fucking" Jourgensen is still the man, and MINISTRY continues to rock harder than any band on the planet today. No Brag, Just Fact…"
Thursday's Ministry show in Southern California could not have come soon enough. Driving in from Long Beach (on what ended up being a rainy afternoon in mostly sunny Southern California), I had plenty of time to get my head right by cranking up a playlist of Ministry classics including their latest release, 2017's AmeriKKKant. This has been one of my "go-to" albums since it was released in March and was excited to see how it would translate on stage at the Anaheim House of Blues. I was literally hours away from finding out and couldn't have been more jacked up to see this show.
As I walked up to pick up my tickets, I couldn't help by notice all the die-hard Ministry fans waiting for their chance to rush the stage and see what many consider to be one of the finest industrial metal bands of all-time. Many were dressed in black, donning old school concert tees from bands like My Life with the Thrill Kill Kult, Nitzerebb, and of course Ministry. Others looked look liked they just got off work, sporting Docker's, polo shirts, and sensible shoes. Regardless of dress, Ministry fans of all walks of life were converging and dialed in as one, making their way down to the pit in lockstep for what would surely be a show for the ages.
After solid sets from openers The God Bombs and Chelsea Wolfe, Ministry took the stage around 9:30 pm. As lights dimmed and video monitors went crazy, keyboardist John Bechdel, Drummer Derek Abrams, and DJ Swamp hit the stage and took elevated spots on stage behind guitarist Cesar Soto and bassist Tony Campos. Guitarist Sin Quirin then appeared from the shadows, face covered in a bandanna (as if to mask his identity from the crowd) to join his crew for a night of mayhem. And finally, the amazing (and highly animated) Al Jourgensen made his way onto the House of Blues stage flanked on both sides by 12′ Orange Trump Chickens emblazoned with Nazi Swastika's (with "No" lines running diagonally through them) . The near capacity crowd went ballistic as Ministry launched into their opening track, "Twilight Zone".
Over the next hour and a half, fans were treated to a high octane show that never saw a break in energy or intensity. Those lucky enough to be in Anaheim were treated to amazing lighting, intense video backdrops, and ridiculously loud music (what else would you expect at a Ministry show?) Whether you were down with the band back in 1981 or a newer fan, there was something for everyone. New songs like "Victims of a Clown" (with guest vocals from Fear Factory's Burton C. Bell), "Wargasm", and "We're Tired of It" were killer and fueled the now rabid crowd an anarchistic state that ultimately translated into circle pits and crowd surfing.
On top of that, classics like "Lies, Lies, Lies" and "N.W.O." laid the groundwork for a 15-song set that took it to a whole new level in Orange County. However, the highlight of the evening was scalding renditions of two of my all-time favorite Ministry tracks, "Just One Fix" and "Thieves". This is as good as it gets in my book, with Al and Company taking the set to an "11" in seconds. The band closed down the show with a track that I personally feel doesn't get as much love as it should, "Bad Blood" (off 1999's Bad Side of the Spoon). Talk about taking it up a notch – these guys went ballistic on their final salvo of the evening and left nothing on the table as the song came crashing to an end. It was the perfect song to end an incredible evening of debauchery at the Anaheim House of Blues.
Walking back to my car, I can honestly say that this may be one of my favorite Ministry shows I've been to in the last 20 years. Tony Campos's thundering Bass was nothing short of amazing, and the guitar tandem of Sin Quirin and Cesar Soto literally blew the doors off the joint (my ears are still ringing!) And tying this crazy sound together was the keyboard prowess of John Bechdel and the drumming of Derek Abrams. These guys are talented. And let's not forget DJ Swamp. His incredible mixes took Ministry's sound to a whole new level on a rainy Thursday evening in Anaheim. Finally, there's Uncle Al. What can be said about a guy that has been there since day one and continues to electrify the masses with his "no-bullshit" approach to his music, politics, and life. He is the glue that keeps this band together and honestly deserves more credit as an accomplished musician than the mainstream media allows him (for those that don't know the band has been nominated for FOUR Grammy's over its lifetime, simply Incredible).
Top to bottom, Ministry put on a spectacular show on Thursday evening that highlighted (with an exclamation point) why this band has withstood the test of time and still sits atop the throne of all-things metal. Al "Fucking" Jourgensen is still the man, and Ministry continues to rock harder than any band on the planet today. No brag, just Fact…
Until Next Time,
Stay Frosty and Rock On!
Setlist:
Twilight Zone
Victims of a Clown
TV5/4Chan
Punch in the Face
Señor Peligro
Lies Lies Lies
Rio Grande Blood
We're Tired of It
Wargasm
Antifa
Just One Fix
N.W.O.
Thieves
So What
Encore: