NORTH COAST MUSIC FESTIVAL@UNION PARK, CHICAGO -IL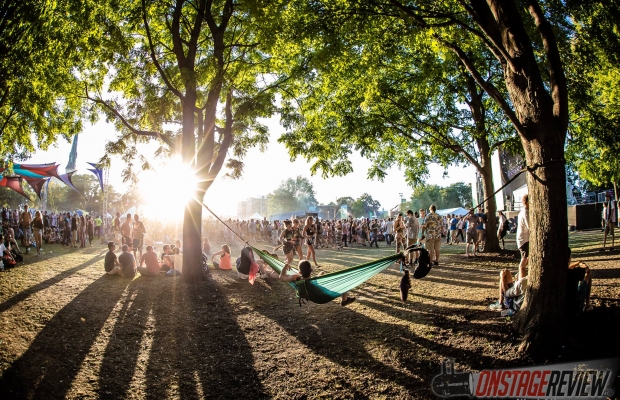 September 2-4, 2016
From a distance, Union Park looked as if it was already at capacity, but there was still a long line of people eagerly waiting to get in. You could hear the music playing over the fence but you couldn't get a vantage point until you got inside. Once you did manage to get inside the gate you ran head first into a full blown party with 3 stages, plenty of excellent food, and more booze than the entire city of Chicago could consume.
This was my first experience at North Coast Music Festival. Just from looking at the list of bands, I already knew this was going to be the most musically diverse fest I had ever been to. Starting off, I got a taste of the soulful rock and roll vibes from The Revivalists on the Coast stage. This group gave the fans everything they had, from wailing horn solos to grooves that would make the rock legends proud. This high energy and passionate expression was exactly what North Coast fest needed to get the ball rolling.

As I sifted my way through the gigantic crowd of free spirits and party animals I stumbled on a gated in area with a sign that read "Silent Disco." Intrigued and curious, I wandered in. I was greeted by a smiling face and a set of headphones. They explained that I could switch between the 2 different DJs playing at the moment. I put the headphones on and immediately found myself enthralled, not just from the hard psychedelic beats in my ears, but the fact that I was now bobbing my head along with about half the people taking part in the silent disco. The other half must have been on the other wavelength. What made this experience so surreal and successful was the quality of the wireless headphones themselves. They had damn near enough power and clarity to make you feel like you were really at a club, but then if you decided you needed to talk to a friend, you just pulled the headphones off to talk at a reasonable volume and laugh at those dancing in silence around you. Honestly, I could see this silent party idea becoming more and more prominent throughout the city. You can legitimately have a banger at any hour, at any place, while still being able to casually chat and spend time with who you came to see. I see this idea as brilliant and it seemed like everyone enjoyed it just as much as I did. Coupling the silent DJs with some incredible local graffiti artists working on their craft was something to behold. Throughout the 3 days these paintings quickly came to life along with everyone who happened to wander through the Silent Disco.
Throughout this review I will be giving shout-outs to a few of the most memorable and significant artists that I found. I did not get to see every artist since some overlapped, but I did manage to catch many of the big names. Galantis put on a stunning performance riddled with heavy break beats, smooth transitions, and very cool mixing effects. Throughout the entire set the duo was hammering away on their drum machine and jumping around on a smoke filled stage. The energy of these men reflected onto the crowd like a mirror.
Easily the heaviest set on the Coast stage, along with one of the most compelling shows I have ever seen, was Sleigh Bells. This group mixed together metal guitar with hard beats along with a stunning female voice in Alexis Krauss. This music was so unbelievably emphatic and just ruthless. Every bass drop was more filthy than the last and the entire wall of sound seemed to grow throughout the set. I was legitimately in awe. I was expecting heavy electronic music at this fest but I was not expecting it to be coupled with actual metal. If you're into music that is right on the border of too much to handle, you will love this group.
I only managed to catch a portion of Juicy J's set but I can tell you that this man single-handedly kicked this fest into high gear. The party going on at his stage was unlike anything I witnessed through the entire weekend. Every single person was dancing as Juicy J took complete control of the audience. Some members of his crew were laughing and spraying champagne on the fans, while other much larger men were dressed in all black suits and clearly not there to party. I don't believe I have ever seen an artist with such serious security during a concert. I guess when you are as huge as Juicy J you can't be too careful when it comes to protection. This man smashed the crowd with his beats and his rhyme schemes alike. I was pleasantly surprised by how solid this performance was, but I wasn't too familiar with him until now.

Odesza was something unique that, until this festival, I had never seen anything quite like it. This duo is refereed to as a genre called chillwave, and honestly, the name explains it pretty well. This was some of the most surreal and relaxing music I have ever seen live. It sincerely felt like a wave of pulsations and sounds washing over you as the crowd swayed and danced with their eyes closed. Now don't get me wrong, this group can pull off the intense electronic stuff too, but their forte is clearly making their fans drift off into a fantasy world of bliss and elation. These men have a very significant talent that translates into music that makes you feel like you are dreaming.

I managed to sneak over to Grouplove for the end of night one and I am extremely glad that I did. The energy that this band brought with them to the stage was contagious and so much fun. It seemed like every member was absolutely ecstatic to be there. Many members had vibrant colored hair as well as attire that was reminiscent of the 80s. Their music even had an interesting twist between grungy rock and 80s dance vibes. The crowd was singing every word and screaming at the top of their lungs during every track. Grouplove absolutely crushed the final set of day 1. Guitarist and vocalist Christian Zucconi tossed his guitar about 20 ft in the air at the very end of their set and let it smash into the stage as they thanked the crowd for joining them. As a musician, it made me cringe seeing that guitar break, but as a spectator it was a nice touch to such a reckless and wild closing set.
Day 2 brought in an even bigger crowd than day 1. The first band that I was stoked to see did not disappoint. Vulfpeck put on a masterful performance that was filled to the absolute brim with funk and soul. I still cannot fathom how fantastic this set was. If you take a listen to some of Vulfpeck's tracks you may think they are just some goofy joke band but I assure you that these gentlemen are practiced, professional, and very serious about what they do. Jack Stratton announced to the crowd in the middle of the first track that he was going for a walk, and then proceeded to hike up his shorts and slowly dance his way around the stage with his trademark moves that may be a huge chunk of what got this band so big so fast. Simply because this man has some of the best dance moves out there, the crowd completely went nuts. Theo Katzman switched from drums, to guitar, to keys, then to vocals, and showed proficient skill at all of the above. This entire band is just bursting at the seams with talent. As a bassist, I've been digging for the best funk bass out there for many years and honestly, Joe Dart is sitting comfortably among my 10 favorite funk players at this point. Vulfpeck let this guy loose on a solo for a few minutes and I was absolutely shocked at how articulate, expressive, fast, and just plain sexy this man's playing was. This bands pocket is absolutely one of the very tightest in the game today, and their track "Put it in My Pocket" was a killer showcase of that. Do yourself a favor and catch these guys next time they roll into your town.
Ty Dolla Sign brought a very dynamic blend of hard hitting beats and heartfelt, melodic lyrics to the stage. The warmth and depth of the production alone was something that caught my attention immediately. This artist combines a beautiful blend of smooth R&B sound with a solid back beat that was very cool to see live. Ty Dolla Sign is a well rounded MC and he put on one hell of a show.
Immediately after Ty Dolla Sign wrapped up, the Skyline stage blasted some thick and delicious funk right into the gigantic pile of awaiting Floozies enthusiasts. The Floozies are a badass duo of a guitarist/producer and drummer that put on the type of show that you start bobbing your head and tapping your foot to whether you want to or not. Without exaggeration, every single person that was within 300 feet of that stage was dancing. Similar to The Main Squeeze, Dumpstaphunk, and Lettuce, this group would occasionally get so funky that they end up transitioning into a pounding beat that's reminiscent of Rage Against the Machine style riffage. The distortion and effects being used throughout these tracks had a similar vibe to old Daft Punk as well. These juicy voice-like synths and tasty live grooves were a killer precursor to Bassnectar on this stage.
The next act will stay etched in my memory for the rest of my life. The Claypool Lennon Delirium was one of the most surreal live experiences I have ever been a part of. I was lucky enough to be front row and up against the barrier. A childhood idol of mine in Les Claypool, and the son of one of the most famous musical revolutionaries, Sean Lennon, working together on a brilliantly constructed side project was something I have never in my life seen the likes of. I was not even aware that John Lennon had children until this concert. Claypool opened up with a snippet of "Pure Imagination" exclusively on bass. This seemed like not only an ode to the late great Gene Wilder, but a tribute to John's "Imagine" as well. The crowd recognizing it immediately and let out a respectful cheer in honor of a great comedian and artist. As this group got the wheels turning I was more and more impressed by each song. They combined a timeless rock and roll vibe with a very cerebral and psychedelic twist that instantly brought me back to many of the greats from the 60s and 70s. Sean's voice sounded very much life his father's, but his guitar playing was an entirely new and unique animal of its own. Claypool would lay down the piercing yet thick bass grooves while Lennon spoke through the 6 strings in his hands with a curious smile on his face. The drummer and keys players put together a groove and synth mashup that was something Pink Floyd, Led Zeppelin, or even the Beatles would have enjoyed thoroughly. This was a presentation that was entirely different than anything at North Coast and I'm glad so many were there to experience it. The electronic leaps music has made over the last 30 years is nothing short of amazing, but music like what these gentlemen were making reminds me of the evolution of rock and roll and just how crucial those years were for music and the entire human race. This was a phenomenal performance and should not be ignored by anyone if you happen to get a chance to see them.

Bassnectar, a legendary DJ and producer of some of most ridiculous Drum and Bass out there, kicked in just seconds after Lennon left the stage. Pumping an unreal amount of bass into the earth and displaying a visualizer/lighting combination as strong as the sun, Bassnectar did not have anything close to a mundane entrance. The beginning of this set was so intense actually that about 20 seconds into the first track the stage went black and the sound entirely cut off. The crowd roared at first thinking maybe it was intentional but soon fell silent in disbelief. Everyone, including myself, thought for a just a moment that might be it. Bassnectar could have blown the entire sound system. Luckily shortly after we heard over the intercom "Sorry, lets go ahead and try that again" the stage lit right back up and instantaneously kicked right back in with the heart pounding bass and blinding lights. The fans responded similar to that of a metal show when the lead singer demands a mosh pit, but it seemed to be almost entirely involuntary. Half the crowd was dancing and the other half was headbanging and thrashing around among the group. Bassnectar had no more technical difficulties but may well have been turned down a bit since the power outage. It was still mind blowing as far as production and creativity was concerned, but the initial kick shook my body from like a quarter mile away, after he came back up I don't think he was given the same amount of juice he had before. Regardless of the fact that he pushed the North Coast envelope a bit too far, this electronic performance was something to behold.

My night ended with an uplifting set by Logic. I have seen a good amount of rappers perform in my life, and I can definitely say I have never seen one with so much heart and soul poured into the words he's spitting. This MC has found a lot of success in recent years and he is clearly not letting go of it any time soon. Logic embraced his fans as soon as he walked on stage, greeting everyone with a smile and intense gratitude. Throughout the night he must have shouted out to his fans and his "believers" about 10 times, thanking them for being supportive over the years. For how talented this young MC is, he is so very humble and caring when it comes to his fans. This is refreshing to see in such a competitive and ego driven musical community. Logic made it very clear that a lot of people told him he wouldn't make it and that he wasn't going to go anywhere, but aside from all that negativity he blossomed into an extremely successful artist. He made this point during a motivational speech to the crowd that can be summed up to "Whatever it is you want to do, do it. There is nothing in the world you can't do." In between chatting with the crowd about how everyone needs to be more positive and how important the the concept of equality is, Logic absolutely ruthlessly smashed each and every track. Not only did he lyrically slice through each hook and each verse, but he treated his fans with some freestyle that ripped through the crowd like an aesthetic shock wave of poetic and linguistic mastery. This rapper not only has the chops to roll with the best of em, but the insight and inspirational magnitude to tower over some of his very own idols and really make a difference in the world of music and Hip Hop. Keep an eye out for Logic. He might just get to the top, and he won't stop there if he does.


Sunday I spent a good amount of the day exploring the fest to see what I had missed the first 2 days. After only a few minutes of wandering I found myself purchasing a few prints from the wonderful artists at www.blackinkart.com, buying beautiful artistic clothing from various local and exotic vendors. The food choices were out of this world as well. After going full circle I decided to venture into the Heineken house which was a cloth dome that was entirely packed, with a DJ filling the bubble with vibrating beats and a laser light show. Coming out the house felt like waking up from a dream as I was greeted with the deep and hard hitting bass behind Action Bronson. This particular MC was about as raw as you can possibly be. He didn't have any fancy production tricks, no auto-tune, and no flashy clothes. This man just stood at the edge of the stage and owned the words he was spitting into the mic. I give Action Bronson props for his ice cold delivery and badass stage presence. Sadly this set list was one of them that overlapped with a band I could not miss, Umphrey's Mcgee.
For those who are already lifelong Umphrey's Mcgee fans you understand just how incredible this group is, but for those who are unaware, I will fill you in. This is a 6 man jam band that can and does play literally every genre in the book over the course of a set that usually lasts over 2 hours. The talent that each member has is enough to wow even the highest caliber virtuoso musicians. This was my first time seeing this group live and the first thing that hit me was the mind bending visual show. It wasn't a particularly complex set up, just a lot of straight light beams in about every color of the rainbow. The immense amount of smoke they shot out right at the beginning began to twirl and twist through the hundreds of lights and before I knew it there was a gorgeous array of swirling colors covering the crowd of dancing fans that looked like a moving Pollock paining. They would sway from a hard funk beat to spacey progressive rock with very unorthodox, but enjoyable, transitions in between. At times, they even pushed their speed and riffage to levels that would impress even the best metal musicians. Similar to a good DJ, Umphree's Mcgee slices in small pieces of classic tunes and hit songs to spark the crowds interest, and then snap right back into one of their righteous jams. Without seeing them live it's almost impossible to understand how good this band is live, but there are many solid live recordings out there if you want to give them a listen. This is easily one of the very best jam bands active today.
Last, but absolutely not least, was Zedd. Between the gigantic wall of visualizers, the ungodly puslating bass, and the absolutely heart-wrenching buildups, Zedd easily holds #1 on my list for most intense electronic show I have ever seen. With that being said, this display was one of the most intense things I have ever seen period. The visual candy alone was almost too much to swallow, and not only because of how rapid and aggressive it was, but there was a strong psychedelic message being broadcasted all at the same time. Fireworks and smoke would fill the stage nearly every time the bass would drop. Mid way through the set the craziest display of lasers I have ever seen stretched from the stage all the way through the city behind us. This spectacle was made up of more pure energy and raw power than anything I have ever witnessed. Just when I thought a buildup was reaching its peak, Zedd would lift it even higher and add another layer to the mix. The tension and release this man is capable of creating in a live environment is nothing short of euphoric. Late into his set the backdrop was lit with a red reflecting sunset image that was slowly moving like water. I literally had to double check to make sure I wasn't dreaming. I believe that artists like Zedd are crucial in the lives of music lovers worldwide. People plan their entire lives around seeing a 2 hour set of this magnitude, and I now understand why. So much work and detail goes into every aspect of his show. A masterpiece of a production like this can be a life-changing event for someone who has never experienced it in person. Music is a powerful healing force around the world. Zedd and many artists in his company just happen to have the loudest, most vibrant, and most captivating method of pushing music into the world. Thank you to everyone who contributed to this experience and to everyone who helped make North Coast Fest happen.