SCORPIONS & MEGADETH @ Allstate Arena – Chicago, IL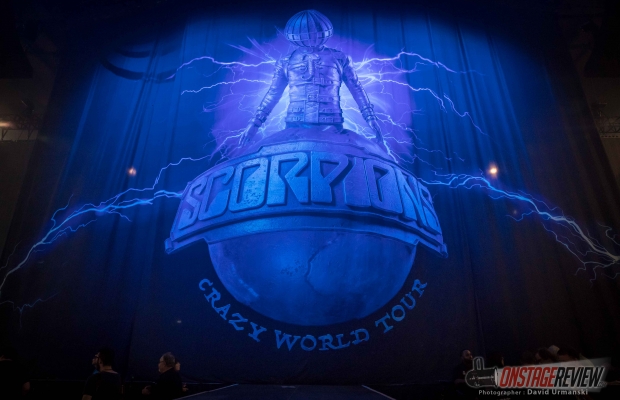 September 23, 2017
With nearly 50 albums between them, it is no wonder that the Scorpions and Megadeth were welcomed with open arms to a sold-out crowd at the Allstate Arena in Chicago Saturday night.  With their North American Fall tour kicking off on September 14th and concluding in Tampa, Florida on October 15th before heading overseas, these two traditional heavy metal bands always live up to their reputations with high-energy performances, scorching riffs, thunderous rhythm sections and precision vocals leaving adoring fans wanting more long after the stage lights go down.
In fact, this is the first time in history the Scorpions and Megadeth have teamed up on the same bill to tour in North American despite having shared the stage for music festivals in Europe years past.  That said, regardless of which band fans preferred over the other when they arrived at the Allstate Arena, there is no doubt that each and every one of them left with a smile on their face and increased adrenaline after having witnessed a show among shows from two bands that have forever secured their place in rock n' roll history.
Klaus Meine – Vocals  (1969 to present)
Rud0lf Schenker – Guitar (1965 to present)
Matthias Jabs – Guitar  (1978 to present)
Pawel Maciwoda – Bass  (2003 to present)
Mikkey Dee – Drums  (2016 to present)
Rudolf Schneker launched the band in 1965 when Schenker himself took on the dual role of rhythm guitarist and lead vocalist.  Five years later, Rudolf's younger brother, Michael Schenker, and vocalist Klaus Meine joined the band hailing from Hannover, Germany and recorded their debut album Lonesome Crow in 1972 along with bassist Lothar Heimberg and drummer Wolfgang Dziony.   Following the addition of Matthias Jabs on guitar in 1978 and recording of the band's Lovedrive album, the Scorpions rose to fame and achieved commercial success and, for the first time ever, performing in the United States in 1979.   Since inception, the Scorpions have recorded 18 studio albums and performed more than 5,000 concerts in over 80 countries.
Dave Mustaine – Vocals & Guitar  (1983 to 2002, 2004 to present)
David Ellefson – Bass  (1983 to 2002, 2010 to present)
Kiko Loureiro – Guitar  (2015 to present)
Dirk Verbeuren – Drums  (2016 to present)
Originating in 1983 out of Los Angeles, California, Dave Mustaine and David Ellefson joined forces after Mustaine's dismissal from Metallica, resulting in Megadeth's pioneering and popularization of the American thrash metal scene as one of the music genre's "big four" along with Anthrax, Metallica and Slayer.    With complex music arrangements featuring rapid rhythm sections and shredding guitar solos, Megadeth's live performances only reinforce the band's mass commercial success and recognition as one of the most musically influential bands to today's death metal scene.
With a discography that includes 15 studio albums, five live albums, six compulation albums and 47 singles, Megadeth continues to produce impactful and provoking music, riveting album artwork and captivating videography.  With the band's most recent release of Dystopia in early 2016, the band has come a long way from where it started in the American underground metal scene in the 1980's to having sold nearly 25 million units worldwide to date and no signs of slowing down in the near future.