SHINEDOWN @ HOLLYWOOD CASINO AMPHITHEATRE – TINLEY PARK, IL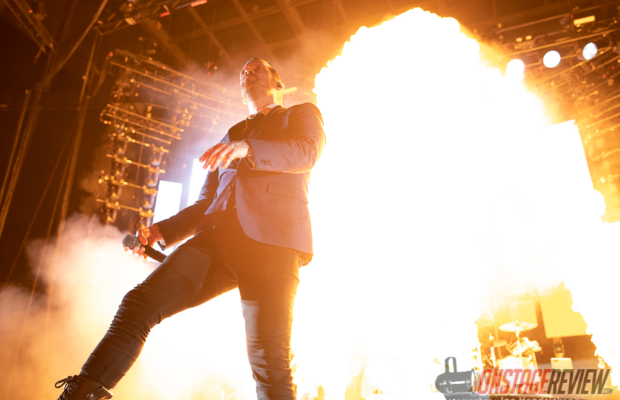 July 14, 2019
American rock band, Shinedown, lights up the Hollywood Casino Amphitheatre on July 14th with support from Badflower, Dinosaur Pile-Up, and Broken Hands on their Attention Attention World Tour. It was a hot and humid night but the rock music from these amazing artists made it all worth it. I've been a fan of Shinedown since their first album, Leave a Whisper, that came out in 2003. Unfortunately, I've only had a chance to see them live twice in Grayslake, IL before this show.
Broken Hands is a rock band based out of the United Kingdom. They will be putting out a record under Atlantic Records on August 9th called, Split In Two. Singer, Dale Norton controls the stage with backing vocals by his brother, Callum, but the entire band was in sync and enjoyed themselves in stage in front of this large audience. The band has sort of a grunge, alternative sound with their distorted, chugging guitars. I really enjoyed the song, "Split in Two." You can check out their most recent single, "Wrong Track" on Youtube before their upcoming album release.
Dinosaur Pile-Up is another United Kingdom based alternative rock band who recently put out an album called, Celebrity Mansions. They will be taking off on their own headlining tour on July 30th. The sound of the band brings me back to some of the early 2000 alternative bands; Hot Action Cop comes to mind from their recent single, "Back Foot." They're fun and all of their songs have their own sound to them which really helps them fit into, but still stand out in, today's music scene. With only being three members they sounded great live! They gelled really well together and the fans loved them with their low key vibe but high intensity music. They were very thankful for all of the support of their music throughout their set.
Badflower is direct support on this tour for Shinedown and the only other supporting band that I've listened to before this tour kicked off. The band gained attention quickly when their singles, "Ghost" and "Heroin" came out on the Rock charts at #1 from their album, "OK, I'M SICK." The energy that this band brings live is so much fun to watch. Josh Katz is a perfect frontman for the band with his higher voice and almost eerie persona on stage. Josh was bouncing around like a madman, bending over backwards, and sliding across the stage on his back in between the singing portions of the song, with bassist Alex Espiritu joining in. Sure you could head bang or jump around but how many musicians are as flexible and nimble as Katz? The band has a very bright future and will continue to impress fans with their music and live show. I highly recommend checking them out to see what I'm talking about the next time that they come through your city! I would love to have the opportunity to photograph the band again because it was such a good time.
Shinedown takes the stage in style with the "Attention Attention" intro playing with a curtain over the stage. As the curtain drops, the band kicks it into high gear as they play, "Devil," the single from their most recent album, Attention Attention. The stage had pyro around the drum riser and down the ramp, which made for some awesome pictures. Brent Smith has a fantastic voice, easily one of my favorites in rock, and really knows how to take charge of a stage with his confidence. All band members, Brent Smith, Zach Myers, Barry Kerch, and Eric Bass, interact with each other and have fun throughout the concert and joke around at times between songs.
On the back of the set were exclamation video screens that would act as lights or video screens throughout their set but they lit up the entire stage. On top of the lights and screens were some lasers, fireworks and some fire that would come from the riser and around the stage. A couple of the pyrotechnics made all of the photographers in the pit jump. The fire was nice and hot right up front but led to some pictures that are hard to replicate the emotion of. The band is known for incorporating pyro into their shows and I'm very glad that I was able to capture it in a few of my photos.
I heard from another photographer that Smith makes it a point to thank all of the photographers up front and he did go around to shake every one of our hands. As someone that is relatively new in the concert photography industry, this is something that will stand out to me as I attend all of my upcoming concerts.
As I've said in previous reviews of concerts, I always love when bands do something different to surprise the fans and stand out. This is the first concert that I've been to where the band had small stages setup throughout the venue for each of the band members. It was neat because those who didn't have pit tickets would still be able to get close to the band. The pavilion has pillars in between the seating sections and there were different stages setup with Smith being center and more towards the lawn. They performed a few songs and communicated with the fans there before heading back to the main stage. I thought to myself who else has done this?! A lot of times, artists will leave the stage, crowd surf, but never anything to this extent and it was fantastic.
During the song, "Get Up," the band had fans put up their lighters and cell phones which made for a sea of lights filling the arena. Myers played the piano and Smith sat down to sing with him. With being such a large venue and seeing the fans from the front of pit to the back of the lawn waving along was an amazing sight to see. After the song, Smith talks of the lack of negativity and how music is a way to bring people together with positivity.
The evening is finished off with the song Brilliant, which featured the band members on the screens on the back of the stage also singing along. Before leaving, they thank the audience again, tossed out the leftover guitar picks, drum sticks, and set lists.
Shinedown is a band that I would see again and again because of their confidence, stage presence, and their music sounds just as good as their albums, if not better. If you are a fan of this band and haven't seen them live, you should try to get out to a show because you will not be disappointed. The camaraderie and sense of friendship/family between the band members can be felt throughout their entire performance that leaves fans fulfilled.
Broken Hands
Dinosaur Pile-Up
Badflower
Shinedown