SKILLET, SICK PUPPIES & DEVOUR THE DAY @ The Orpheum – Madison, WI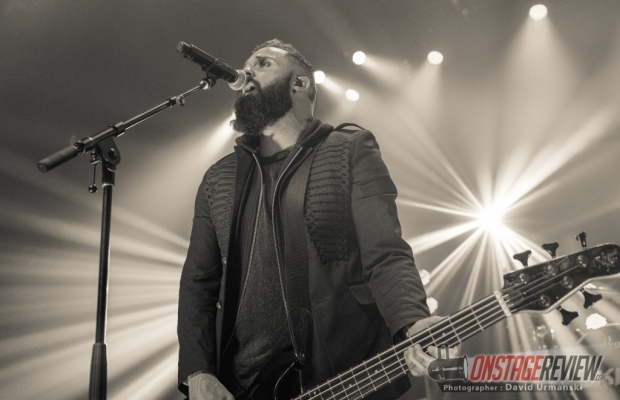 SKILLET, SICK PUPPIES & DEVOUR THE DAY @ The Orpheum – Madison, WI
February 18, 2017
Review by David Urmanski
Photos by David Urmanski
Downtown Madison was rumbling a lot louder than normal Saturday night with vibrant vocal melodies, a barrage of punchy guitar riffs and the thunderous boom of bass and drumfire as Skillet embarked on Madtown with national supporting acts, Sick Puppies and Devour the Day, in support of their Unleashed Tour.  Performing to a packed house at The Orpheum Theater, these bands are no strangers to the stage as they held nothing back in attempt to win over a crowd that was already sold on them the moment they bought their tickets.
Founded in 2012, American hard rock band, Devour the Day, kicked things off for the evening as the quartet consisting of Blake Allison on vocals and rhythm guitar, David Hoffman on lead guitar, Joey Chicago on bass guitar and Ronnie Farris on drums performed a flawless set.  Energized by the cheering fans, Blake was obliged to crowd surf from fan-to-fan in an effort to take it up a notch and reinforce his faith in the power of rock n' roll and the fans in Madison. Hailing from Memphis, Tennessee, the band released their second album, S.O.A.R., in April 2016 as a follow-up to their debut album Time & Pressure.
As direct supporting act for Skillet with over 25 scheduled dates this tour, the Sick Puppies blew the doors off the joint. Despite the parting of ways with previous guitarist and vocalist in the Fall of 2014, Emma Anzai (bass and vocals) and Mark Goodwin (drums) persevered and weathered the storm with astonishing results after Bryan Scott joined the Los Angeles based band and claimed his rightfully deserved position as frontman of this tremendous trio. In support of their album Fury, which was released in May of 2016, they craftfully performed new singles, to include Stick To Your Guns, as well as more renowned hits such as War, Riptide and All The Same before ending their set with hard-driving You're Going Down. As usual, the Sick Puppies, did not disappoint and are a must see band for anyone who can appreciate emotionally charged compositions from artists who live and breathe music each and every day.
After a brief interlude between sets, which allowed concert-goers to finally catch their breath, the one and only Skillet graced The Orpehum Theater with their presence with their own unique brand of spiritual and socially-inspired music. Regardless of fan faith, Skillet has proven their ability to reach the masses and boost their fan following with their ever-growing repertoire of tunes and high-energy live performances which are accompanied by a resiliant light show. Saturday night was no different.
Without condemation to non-believers or believers of other faiths, this American Christian rock band is quite content reaching out to all-comers who share a common bond of everlasting music in mind. Touring in support of an incredible album, Unleashed, the band consists of vocalist and bassist, John Cooper, and guitarist/keyboardist Korey Cooper (who also happens to be John's wife), lead guitarist Seth Morrison and drummer and duet partner Jen Ledger.
With over 11 million units sold worldwide and new song "Feel Invincible" topping Billboard's Top Christian Songs Chart for a record 19 weeks, it is no wonder this band creates so much buzz on the road with the second U.S. leg of The Unleashed Tour hitting 26 cities between February 8th and March 24th. That said, it only made sense for Skillet to start their set strong with Feel Invicible, followed by 16 other front-runners including Rise and Monster before ending a solid, heartfelt set with encore The Resistance. Skillet is Unleashed and you are the lucky recipients. Congratulations!
THE FANS