STEEL PANTHER @ HOUSE OF BLUES – CHICAGO, IL
By Joe Hendrickson on December 10, 2019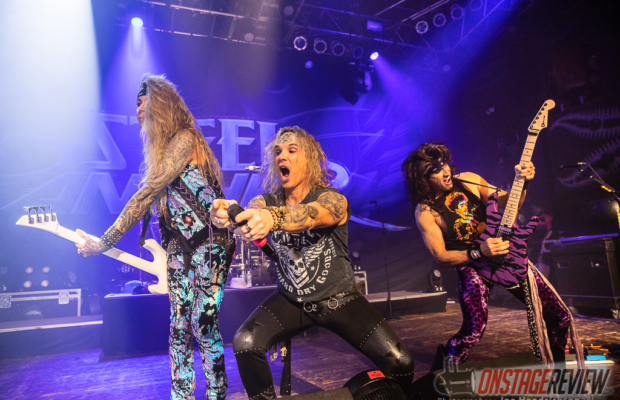 December 8, 2019
Steel Panther made a stop at the House of Blues in Chicago on their Heavy Metal Rules Tour, with Stitched Up Heart, to support their new Heavy Metal Rules album. The night was filled with headbanging, singing along and plenty of laughs for everyone. I've never had a chance to see them before the night and it was an absolute blast! Everyone that's seen Steel Panther before told me that I wouldn't be disappointed and they weren't wrong! Fans were dressed in all sorts of costumes with wigs, cut up tees, bandanas, and even leather or spandex pants.
This was my second time shooting Stitched Up Heart since they came through The Forge earlier this year and they are very strong with a bright future ahead of them. Mixi has a way to keep the audience captivated from her high notes to her deep screaming growl to her fantastic stage presence to her long blonde hair headbanging along with the music.  During their set, Mixi brought out a guest to help fill in for Sully Erna's vocals in the song, "Lost," then both continued to crowd surf with him during the song. I was lucky enough to be in the right place to get a picture of her while taking pictures in the crowd! Their second full length album, Darkness, will be released in Spring 2020 so keep an eye out!
Sex, Drugs, and Rock & Roll is probably the best way to sum up Steel Panther in a few words. If you haven't heard them before, they're a "glam metal" band from Los Angeles, CA with lyrics full of profanity and sexual references.  At the concert, they noted that if you're easily offended, you can fill out a comment card and they'll tell you were to put it.
The performance was nothing short of amazing and they know how to entertain their fans with their theatrical and underrated performance. They start off the night with "Eyes of a Panther," continue to "Let Me Cum In," before taking a break and joking around with each other. A fan in the front row bought their vinyl and was trying to get them to sign it and they obliged. They grabbed the album from the fan and passed it around, which is something that is rarely seen. As singer, Michael Starr and guitarist Satchel, started their sexual banter with each other, Lexxi Foxx continued to put on his lip glass and check his hair in his blinged out, personalized Lexxi mirror. They also showed the audience their "kick ass" new dance moves that they've been working out with their kicks, spins, and hair flips.
Every single one of these musicians is nothing short of spectacular. Chicago's own, Michael Starr's vocal range and energy is something that you would be hard pressed to find in another frontman. What I was really impressed with what Satchel's shredding guitar solos being pulled off with ease and accuracy, which I don't think other musicians hear enough about. If you enjoy their albums, you need to see them live because you will be in for a treat. You'd be hard pressed to find a band with this type of writing skills mixed with their musical gifts.
Later on in the night, they brought a young woman on stage to serenade her to "Weenie Ride," which she also had the chance to sing along to with Starr. After this song, they proceeded to bring more woman on stage to dance around on the next song and everyone was having a blast. Anyone that wanted to make it up on stage had the opportunity to do so and rock out with everyone else.
One thing that especially stood out to me, which I've never seen before, was there was a guy in the audience that wanted to play guitar on "Gangbang at the Old Folks Home." The band invited him to come up and this guy did not miss a beat. The band joked around with him after the song and praised that people are still interested in learning the arts and practicing as musicians in the day and age. As a musician myself, this is something that he will remember forever and may not get the opportunity like this again.
The longer that you stayed at the show, the more you got entertained. Between the jokes, Lexxi's hair blowing from the leaf blower or rocking out to the final song, "Gloryhole," you will only be disappointed when the show is over because you were having so much fun. As everyone started leaving the show, there were smiles on everyone's faces and people laughing about what they just experienced.
There are still a few more dates on the tour and you should definitely check it out if you have the opportunity.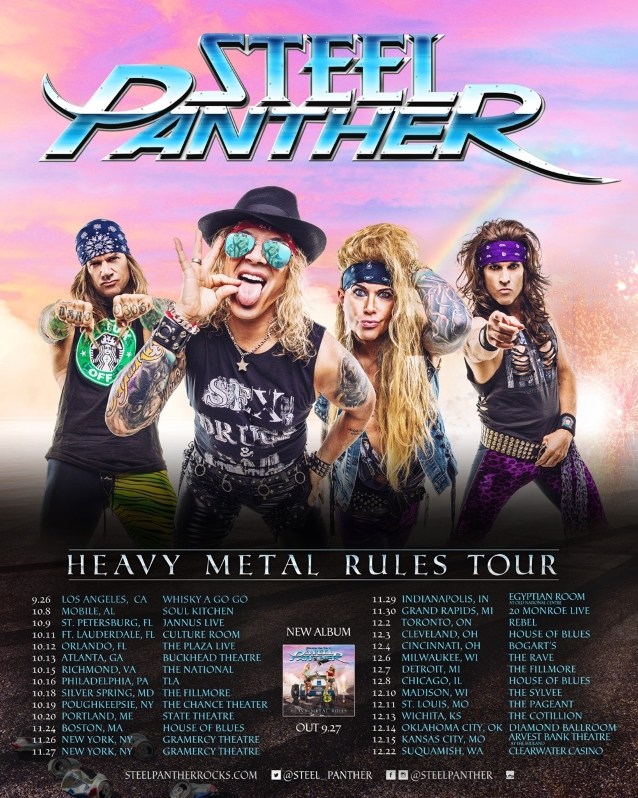 Stitched Up Heart
Steel Panther
Features

Nicci Allen | February 26, 2020

LAMB OF GOD @ HOUSE OF VANS– Chicago, IL February 14th, 2020 Review: Dan Scheiman Photos: Nicci Allen What better way to celebrate Valentines Day, than an intimate winter...

Featured Photographer

Joe Hendrickson | February 18, 2020

Machine Head @ The Metro – Joliet, IL February 15, 2020 Review & Photos by Joe Hendrickson Machine Head made a stop at The Metro on their Burn My...
ABOUT ONSTAGE REVIEW

On Stage Review is a collaboration of passionate and enthusiastic music lovers coming together to give you an inside look into some of today's hottest and most intriguing artists.

We'll dive into their lives and careers on and off the stage and give you an up close perspective few get to see.

Facebook

ADMIN
Copyright © 2017 ONSTAGE REVIEW.com. Site by FM Imagery.