STEVEN WILSON REVIEW @ VIC THEATRE- Chicago, IL
By Dan Scheiman on March 22, 2016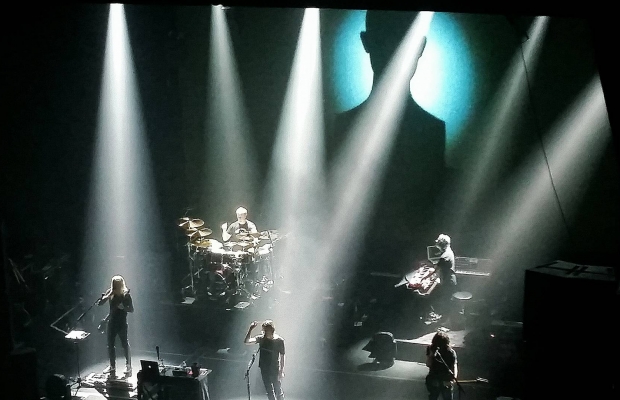 March 8, 2016
Steven Wilson is a highly respected and admired musician, composer, and producer that has helped shape the music industry and the prog community for many years. Steven's unique sound and ingenious approach towards musical expression is something that has inspired me since I was very young.
Having seen Porcupine Tree a handful of times in the past I knew to expect an incredible performance, but there was no way to mentally prep myself for this beautiful, yet very abusive display of progressive mastery. This particular artist is considered a pioneer by many musicians because of his ability to combine the darker side of psychedelic and metal music with a very pleasant and soothing undertone.
Steven has always surrounded himself with extraordinary talent and this tour was no exception. I was saddened to hear that two members of The Aristocrats had to leave the tour when it came over to North America. Guthrie Govan and Marco Minnemann were replaced by Craig Blundell on drums, and Dave Kilminster on guitar. Truth be told, neither of these gentlemen appeared to struggle in the least filling either position, and judging by the roaring crowd and applause, I don't think the audience had a problem with it either after hearing them play. Also sharing the stage with Steven were the likes of Ninet Tayep harmonizing with his vocals, Adam Holzman on keys, and Nick Beggs on bass and Chapman stick. Each of these musicians has a legacy of their own. If any of the names don't sound unfamiliar I would suggest looking into what they've done. You are guaranteed to find something worth your time.
Israeli phenom Ninet Tayep has an incredibly powerful and passionate voice that melded together with Stevens perfectly. It seemed as though he knew how good the connection was as he semi jokingly suggested to the crowd that she would be working with him again on his next album. These two had a unique chemistry on stage together. I would hope to see them work together again in the future.
With every member of the band getting a chance to showcase their skills individually, along with the handful of Porcupine Tree songs they played, it was very evident that each and every one of these musicians was a dedicated perfectionist. It's nothing short of mind blowing how much of the world's musical talent is concentrated within the prog metal community.
Bringing together the incredibly in-depth effects and pedal boards being utilized, the stellar light show and visualizers, and the flawless sound and production, Steven Wilson has been bringing his fans the very best performances possible since he began his career in the 80's.
Towards the end of the show, Steven payed homage to someone who he grew up listening to and respected a great deal, David Bowie. In doing so he explained how Bowie was an inspiration to him not just musically, but because he was a true artist, and unlike so many other people in the industry who are merely entertainers, Bowie showed him that if you continue to give the fans your own honest and real art, you will be respected and loved for years to come. At this point, Ninet is called back onto the stage for a duet… "Space Oddity"(Can be seen here, not in Chicago but similar). The day I heard Bowie had passed I teared up a bit listening to his last album, but Steven and Ninet pulled all those pent up emotions right out of me for this one; I had tears rolling off my chin by the end of this performance. Whether it was the wall of sound that was so perfectly fine tuned to twist my brain around, the honest and heartfelt tribute to the great David Bowie, or ending with "The Raven That Refused to Sing," I can honestly say, I have never seen a prog metal show that carried with it such a tremendous amount of truth and emotion. Thank you Steven for everything you have done over the years and continue to do today. Music needs more people like you woven into its complex, beautiful, and ever growing fibers.
Dan Scheiman With an entirely open and unbiased obsession with music, Dan decided to take the opportunity given to him to share his thoughts for On Stage Review. Having been to hundreds of concerts of a variety of styles and genres over the years, he's no stranger to live music. He has been playing bass guitar for over twelve years now and has been dabbling in vocal work, drums, and piano for almost as long. Growing up listening to metal and industrial then transitioning into jazz and classical, and now having a particular love for funk or anything that grooves; his perspective comes from a well-rounded musical background and some amateur experience as a musician. He has too many favorite bands to list, but some of his favorite live experiences include: Sigur Ros, Porcupine Tree, Papadosio, Tool, The Ocean, Animals As Leaders, Lettuce, and of course, Victor Wooten.
Features

Dan Scheiman | August 5, 2018

MELVINS @ PARK WEST – CHICAGO, IL July 31, 2018 Review By Dan Scheiman Photos By Nicci Allen These legends have been on my concert bucket list for some...

Featured Photographer

Dan Scheiman | August 5, 2018

MELVINS @ PARK WEST – CHICAGO, IL July 31, 2018 Review By Dan Scheiman Photos By Nicci Allen These legends have been on my concert bucket list for some...
ABOUT ONSTAGE REVIEW

On Stage Review is a collaboration of passionate and enthusiastic music lovers coming together to give you an inside look into some of today's hottest and most intriguing artists.

We'll dive into their lives and careers on and off the stage and give you an up close perspective few get to see.

Facebook

ADMIN
Copyright © 2017 ONSTAGE REVIEW.com. Site by FM Imagery.