STYX @ Genesee Theatre – Waukegan, IL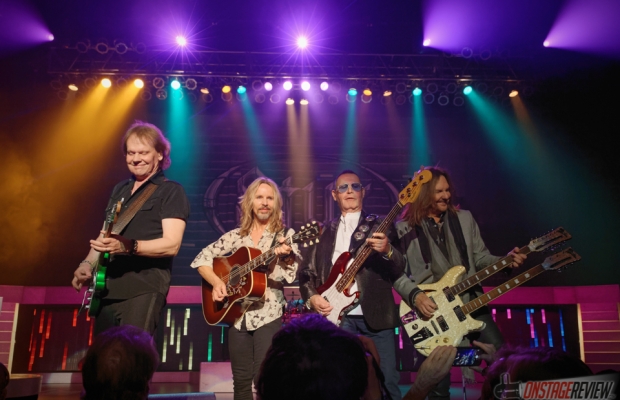 November 10, 2016
      Chicagoans flocked to the Genesee Theatre November 10, 2016 to see an unforgettable performance from one of rock's biggest bands and Chicago's very own, STYX. It was an action packed evening that pulled no punches and was full of surprises. Opening with "Grand Illusion," Tommy Shaw shredded guitar under spotlight on top of the large set piece as members James Young, Lawrence Gowan, Todd Sucherman, and Ricky Phillips made their entrance in the dark. As the lights came on, the mature audience was instantly turned into young screaming fans that sang along while attempting to take photos with their phones. Shaw, Young, and Phillips owned the stage with their choreographed moves reminiscent of the golden years in rock music that seems to be lost on new bands of today.
      Young strolled around as the cool cat, giving up-close and personal guitar solos off of the edge of the stage while Shaw's studio perfect vocals were chorused by the audience. Gowan, danced around his spinning piano and showed just how easy it is to play it behind his back without missing a note. As a real treat, founding member Chuck Panozzo joined in with a warm welcome to play songs like "Too Much Time" and "Fooling Yourself." While Panozzo effortlessly laid down bass, Phillips switched roles and rocked a beautiful white pearl Italia double neck guitar that seemed to glow under the lights. Todd Sucherman absolutely tore up his beautiful Pearl Masterworks drum kit, providing atomic clock precision beats for an impeccable rhythm section. His massive drum fills and double pedal prompted cheers on command from the fans.
      To the delight of everyone, STYX did a faithful cover of The Beatles' song "I Am the Walrus" that had the house on its feet. The night's set list was a "best of" including favorite hits from albums: "The Grand Illusion," "Pieces of Eight," "Paradise Theatre," "Equinox," "STYX II," and "Crystal Ball." The 18 song performance was split by a much needed intermission that had excited fans racing to the memorabilia table.
      After intermission, Lawrence Gowan astounded the audience with his own musical piece which he calls "Khedive of the Cosmos," named after the ship his father served on during WWII known as the SS Khedive. Going solo as the band took leave, Gowan played shortened covers of Elton John's "Rocket man" and Queen's "Bohemian Rhapsody" which kept the audience energized for the night's closers. Without a doubt, Lawrence Gowan nails his highly energetic performance and vocals so well that he will make even the most die hard STYX fans forget about Dennis DeYoung. The show is a very polished presentation with an explosive finish that's sure you leave you with a smile. It's everything you would hope to expect from a band that has had almost four decades to perfect their greatest hits. While members have changed over the years, as long as Tommy Shaw continues to carry the torch, there doesn't look to be a farewell tour anytime soon.