TURKUAZ @ PARK WEST – Chicago, IL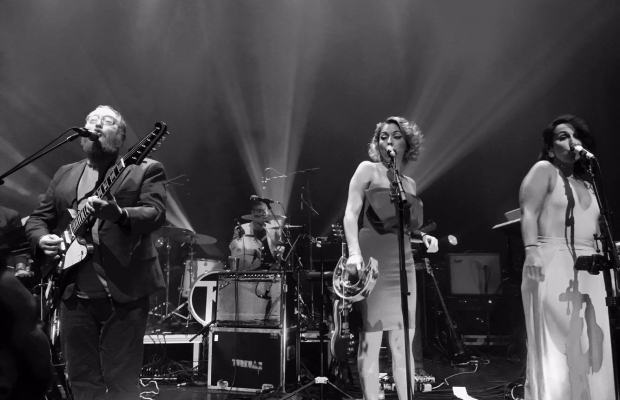 November 25, 2016
Turkuaz is a power funk group that has mercilessly steamrolled every venue they've hit since they first started. They are comprised of nine members, all of which hold a specific and very unique voice in the mix. An enormous and enveloping sound is generated by four fantastic vocalists, a wicked horn section, an air tight rhythm section, two relentless guitarists, and a touch of keys. This group has the make up of a band that could very well bring funk and soul back to the level of popularity it had when The Godfather of Soul was still in charge. May his soulful self rest in peace as Turkuaz carries on the torch.

Getting to witness Turkuaz in what I would argue might be the best sounding venue in Chicago next to maybe The Jay Pritzker Pavilion in Millennium Park, was quite the treat indeed. The acoustics and lighting at Park West are nothing short of perfection for any live act. The sound engineers are clearly masters of their craft. They put together a flawless mix of nine members playing multiple instruments and singing. Turkuaz combines a handful of different genres together to acquire a unique sound that is all their own. They fuse together funk, soul, jazz, pop, and rock elements together with a relentless approach that demands to experienced live.
From the very first beat of their opening track "Bubba Slide" the entire venue was dancing. When you're at a Turkuaz show you don't really have the option of not dancing your ass off. The funk that you are being force-fed comes out the bottom of your feet in the form of the best dance moves you've got. There is something specifically amazing about Turkuaz in a live setting. I love all their albums but my go to is still A live Affair. In the same respect, my favorite Talking Heads album is Stop Making Sense for that same reason. They have a certain Magic in a live setting. Clearly because they are capable of channeling a very similar and inhuman brilliance and soul, they are often compared to Talking Heads by fans.
Each member of the band was dressed up in their specifically colored getup that they always have for live gigs. The smiles and laughter from every member of the band was contagious as the funk got louder and seemed to gain steam. Every moment seemed to be funkier, heavier, and more energetic than the last. Those who seemed shy about dancing early on looked like crazed buffoons by the time the fourth track, "Murder Face" got going. As the ball got rolling and "Generator" made its way to the set list the entire building was shaking.
Turkuaz treated their crowd with an unbelievably soulful and well done Joe Cocker track. Baritone sax player Josh Schwartz put down his horn and approached the mic like a predator approaching his prey. This man appears to put himself into some kind of trance, and once you see his Joe Cocker impersonation you will understand why. "Feelin' Alright" was their choice of the many hits this musical genius put together over the years. The crowd soaked in the love that Turkuaz so effortless poured out onto their fans. Turkuaz ended with their hit track "Lookin' Tough, Feelin' Good" and left it all on the stage that night. These guys and gals are absolutely one of my favorite bands to catch live; If they are swinging through your town I highly suggest you put your dancing shoes on and make a night of it.