WALK OFF THE EARTH @ THE FILLMORE, DENVER, CO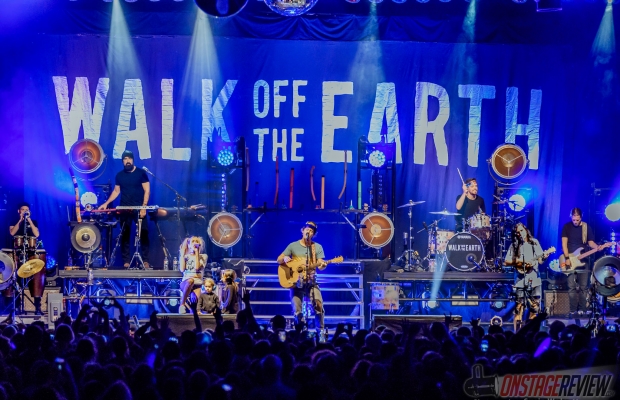 March 13th, 2018
Review and Photos by Susie Wolcott
An all ages show had The Fillmore packed as Denver sold out with The Darenots opening for Walk Off The Earth. The lines were long in preparation to enter the venue as people waited anxiously hours before doors opened. The VIP line extended out past the front walkway of the venue where families, couples, and groups of friends stood to meet the band members. The Darenots set the tone at The Fillmore in Denver on Tuesday with their four member crew streaming from Toronto. The mix of hip hop, reggae, trap and rock is a combination that will only make you dance. The energy from their electronic beats is a wave of rhythms that collaborates with their voices for nonstop movement. The band has been performing since 2015 with James Mascola, Rev and CJ Hinds along with Swav Pior always putting on memorable performances with a natural energy that gets the crowd going. Kids of all ages impressively sang along, some sitting on shoulders of their parents or spinning their own moves on the dance floor.  The Darenots led the night with a performance that well prepped the crowd for the multitalented, five member alternative rock group that has been making a name for themselves since 2006.
Walk Off The Earth hits the stage!  I've personally listened to Walk Off The Earth for since 2010 but this was my first time seeing them live.  I knew the performance was going to be well worth being out on a Tuesday night! The energy this band brings to their crowd is an inspiring. It's a true genuine feel as they connect with their fans, almost performing a sing-a-long act while dancing and throwing instruments back in forth in a grooved manner. The closeness of the band impacts the delivery of their music as they perform quality covers of songs like Gotye's "Somebody That I Used to Know," as well as Queens, "Boheiman Rhapsody".  When you think you've heard the best song of the night, they're quick to follow it with something even more eye-opening!  The range of music genres keeps the crowd engaged and chanting back as the band engages them with words and lyrics to carry on the epic sounds coming from a baritone, harmonica, trumpet and ukulele as well as the beats of the drums.
My expectations were exceeded by this group whom make the tour with Sarah and Gianni's three children whom, if you looked closely, you could spot two of them on stage as they came out to help bring the moves for some of the performance.  I have to say too, Beard Guy really brings the whole act together as he holds his serious stance throughout the show.  This is a band that maintains connection with their fans, bringing a little bit of every type of music and sound that is sure to reach everybody as they keep the crowd dancing!