WJJO SONIC BOOM-SATURDAY @ SOUTHERN WISCONSIN REGIONAL AIRPORT – JANESVILLE, WI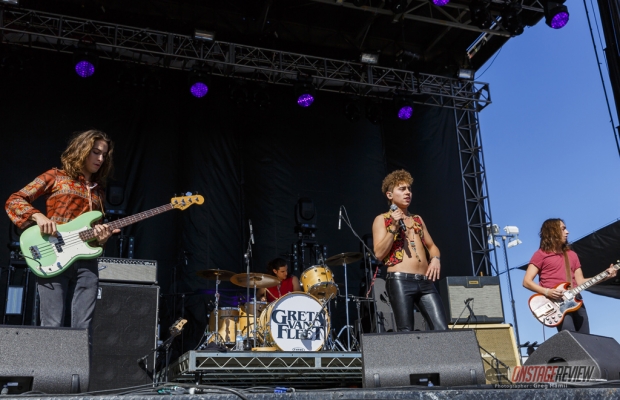 September 30, 2017
Photos and Review by Greg Hamil
WJJO Sonic is an annual 2 day festival held at the Southern Wisconsin Regional Airport. It features side by stages, with music beginning at noon each day. There are 15 bands that hit the stages each day and there are no overlapping sets!
A rotation of WJJO DJs announce the bands throughout the day, all with their own little twist when doing so. Also introducing bands and pumping up the crowd, is Hardline host Lou Brutus. One of the funniest points of the day, was when they brought out a 20 foot beer bong and tried it out on members of the audience. The crowd loved it!
WJJO Program Director, Randy Hawke puts the event together every year. While making sure that everyone has a good time, he also goes above and beyond to make sure that everyone is safe. He starts the day out by asking the audience a few questions. Such as, "If a person falls, what do you do?" The crowd responds by shouting "Pick them up!". He also makes sure that the people in front do not get hydrated by having security go along the barricade giving people drinks of water. It is a rowdy day, but the message gets across as everyone actually watches out for each other.
The daytime portion of Day 1 started with local band "Breech". They were followed up by "October Rage", "Palaye Royale", "Joyous Wolf", "Bobaflex", "Greta Van Fleet", "Radkey", "Beartooth", "Nothing More", "All That Remains", "Falling In Reverse", and "The Pretty Reckless".
As the sky grew darker and the temperatures cooled it was time for the headliners to hit the stage. "Thrice" was first and really got the crowd riled up performing hits "Hurricane" and "Black Honey".
Next to perform was "Stone Sour"! No one gets a crowd revved up like Cory Taylor! Pure energy and perfect sound is the best way to describe their performance. Performing hit after hit, some of the highlights of the show included "Say You'll Haunt Me", "Through Glass", and "Song 3".
The last band of the night was "Rise Against"! Another band with incredible sound and energy! They opened their performance with "Ready To Fall". Next song in their set was "Give It All" where singer Tim McIlrath jumped off the stage and sang from the barricade while high-fiving as many fans as possible. They continued on play many of their hits, with the final song of the evening being their smash hit, "Savior".
Any music fan could not possibly be disappointed with the day overall. 15 bands and several styles of music, there was something for everyone. It only makes most fans want to come back for more! So thankfully, Day 2 is just hours away!